SAIC-GM Pavilion opens
2010. 5 May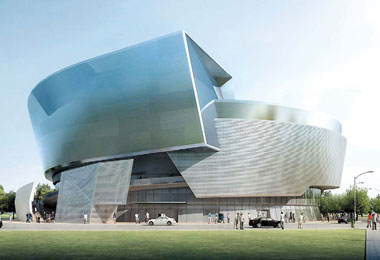 On May 1 when the World Expo 2010 Shanghai started, General Motors and Shanghai Automotive Industry Corp. Group (SAIC) officially opened their corporate pavilion to the public, GM said on its website.

by George Gao
(autonews.gasgoo.com) A ribbon-cutting ceremony at the SAIC-GM Pavilion was attended by executives from GM and SAIC, the joint global automobile partner of World Expo 2010 Shanghai. With the theme of "Drive to 2030," the pavilion is introducing GM and SAIC's vision for the future of sustainable mobility.
"GM and SAIC look forward to providing an interesting and thought-provoking experience to visitors from around the world," Kevin Wale, President and Managing Director of GM China Group, said at the pavilion's opening ceremony.
The pavilion, which is situated in the Puxi Section of Shanghai's Expo Park and divided into three areas (Pre-Show, Main Show, Post-Show), is expected to receive 3 million visitors during the six-month run of World Expo 2010 Shanghai.
In the Main Show area, a short movie shows how humans, motor vehicles and the natural environment will interact harmoniously in 2030. With giant elevated curved screens and moving seats, the theater offers an immersive experience. Following the movie, the audience is introduced to the EN-V and YeZ concept vehicles.
The SAIC-GM Pavilion is open throughout World Expo 2010 Shanghai, which will close on October 31, 2010. Pavilion organizers have set up an online reservation service on the pavilion's official website, www.our2030.com.
Source:
autonews.gasgoo.com