Italy's Pavilion Built With 'Transparent Cement'
2010. 14 May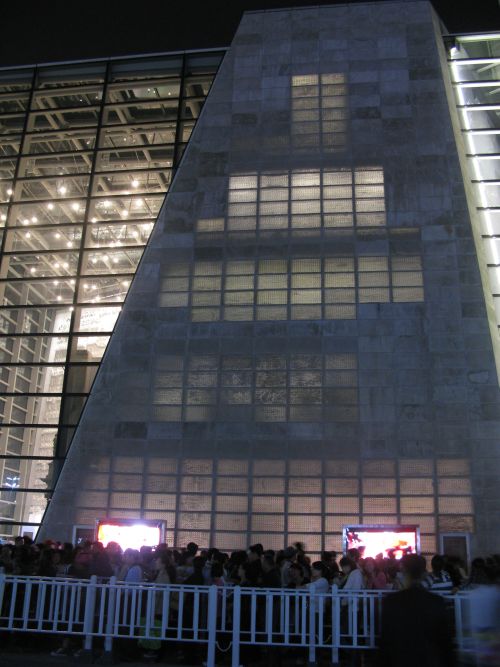 At night, light can be seen through the concrete part.

by Tetsuo Nozawa
(techon.nikkeibp.co.jp) Many pavilions with unusual designs can be seen at the Expo 2010 Shanghai China, which is running from May 1, 2010.
Those pavilions not only look peculiar but use new materials and structures to save energy, reduce CO2 emissions, etc. And some of their buildings are even more interesting than the exhibits inside.
For example, the Italy's pavilion shows a garbage collecting robot, a room whose ceiling is made of pasta and other interesting exhibits. But the most avant-garde feature seems to be the pavilion's building.
The walls of the building are made by piling up concrete blocks made from "transparent cement." Sunlight passes through the walls and comes to the rooms inside the building. And, at night, light in the rooms can be seen from the outside.
Each concrete block measures 100 x 50 x 5cm. About 40% of the Italy's pavilion is covered by using 3,774 blocks.
The transparent cement was developed by Italcementi Group, an Italy-based cement maker. Though the company did not disclose the details of its materials, it said that a transparent thermoplastic resin and inorganic materials such as alumina are solidified without using water. The light transmission rate of the 5cm-thick block is up to 20%, the company said.
In the Germany's pavilion, the "transparent concrete," which contains optical fibers, is exhibited. But Italcementi Group said, "Our transparent cement is much superior (to the transparent concrete) in terms of cost and strength."
When asked the reason why the Italy's pavilion was built by using the transparent cement, Giampaolo Imbrighi, professor at La Sapienza University of Rome, said, "We decided to use this material to realize a traditional architecture and an innovative design and material at the same time."
"If a large amount of glass is used for transparency, it is not possible to ensure enough strength for the building," he said. "The construction became easier due to the concrete block made from the transparent cement."
The Italy's pavilion has features other than the transparent cement. Many holes were made on the ceiling, and they automatically open and shut to control the room temperature. Also, a circulation system for solar heated water was installed to eliminate the need for a gas-heated water supply system.
Source:
techon.nikkeibp.co.jp