Chinese want to buy Czech pavilion
2010. 18 May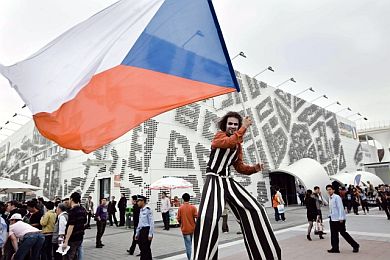 Monday was the Czech National Day at Expo.

by CTK
(praguemonitor.com) The Chinese would like to buy the Czech pavilion at the Expo world exhibition in Shanghai, Pavel Stehlik, general commissioner of the Czech participation, told reporters Monday when the Czech National Day is held at Expo.
He added he would start negotiating about the sale.
A town near Shanghai would like to gain the Czech pavilion. It has selected a place where it can be relocated, Stehlik said, adding it is a relatively large town situated up to 400 kilometres from Shanghai.
Under Czech law, the pavilion must first be offered to Czech institutions if they express interest in its purchase before the possible sale to China, Stehlik recalled.
Part of the expenditures on the Expo presentation could thus return to the Czech Republic.
The Czech government has earmarked CZK 0.5 billion for the presentation at Expo, Foreign Minister Jan Kohout, who visits Expo on the Czech National Day, recalled.
The Czech pavilion will probably be used for commercial purposes after the exhibition. It might still display a copy of the famous "LacrimAu" giant golden teardrop installation by artist Federico Diaz.
The golden tear is in a glass cube that only one of 500 visitors can enter and sit down in a special sensor armchair registering reactions when looking at the drop of pure gold. After their analysis, an automatic device mixes a personal perfume of various essences.
Nevertheless, two bronze plaques from the baroque statue of St John Nepomuk (Nepomucen), which people touch to wish happiness, from the 14th-century Charles Bridge, the oldest bridge in Prague, will definitely return to Prague, Stehlík stressed.
The teardrop installation and the plaques from Charles Bridge have scored a great success among the Chinese.
Monday's programme of the Czech National Day at Expo, which was symbolically launched in the prestigious M1NT club in the centre of Shanghai at midnight, offered some 2,000 Czech musicians, singers, dancers and other artists performing on two scenes outside the Czech pavilion.
Among the performers are Čechomor band, jazz musicians Emil Viklický and Dan Bárta, violinist Pavel ©porcl, the National Puppet Theatre as well as alternative and street theatre groups.
The programme culminated with an evening performance of the National Theatre's ballet.
Some 0.5 million people have visited the Czech exhibition entitled "Fruits of Civilisation"at Expo since its opening on May 1.
The Czech pavilion houses over 20 exhibits as well as the exhibition on the Chinese legend on Monkey King with artist Zdenek Sklenar's illustrations.
The white facade of the Czech pavilion is covered with 63,000 hockey pucks printed with the Expo logo. They form the plan of Prague's Old Town.
Copyright 2009 by the Czech News Agency (ČTK). All rights reserved.

Source:
praguemonitor.com