Ole! A taste of the 2010 Expo's Spanish Pavilion
2010. 19 May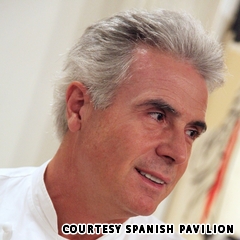 The Spanish Pavilion's head chef Pedro Larumbe gives visitors a chance to tap into some tapas with a Chinese rice twist

(cnngo.com) Head chef of the 2010 Expo Spanish Pavilion, Pedro Larumbe, grew up in a village of 2,000 people in the Navarre region of Spain. At age 16, he says, "I knew I wanted to get out of there, I didn't want to be a farmer!"
That's when he began working as a hotel cook.
"I immediately loved this work. Being a cook felt very natural, even though it was a tough environment at that time -- no air conditioning and no machines in the kitchen," he says.
His perseverance and passion paid off. Larumbe went on to win Spain's Gastronomy National Prize in 1984, served as president of the Europe Young Cooks Association from 1990-1995 and launched three restaurants. Now, Larumbe is representing his country at the biggest World Expo in history -- where his pavilion sees several villages' worth of people in a single day hoping to get a taste of his Spanish dishes.
"It's an honor for me to represent Spain's great cuisine," says Larumbe. "And this is a great platform for my whole young team of chefs: 40 Spanish and 40 Chinese chefs who cook together in the pavilion."
Spanish food for Chinese palates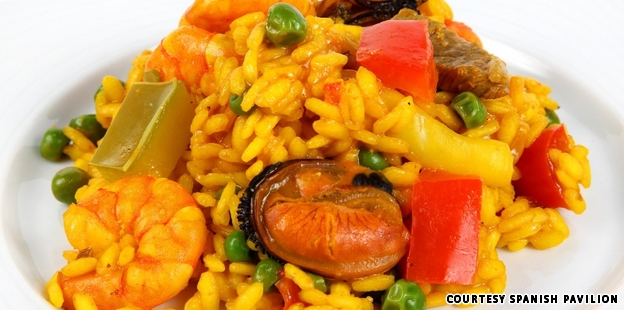 "We have chosen the dishes to represent the excellence of the Spanish cuisine, based on the quality of the product," says Natalie Lan, Spanish Pavilion representative.
On his arrival in Shanghai, Larumbe gave a cooking demonstration of paella and illustrated his dedication to his craft.
"All our ingredients are from Spain, including oil, olives, cheese -- everything except the rice!" he says.
Tall, modest and with an easy smile, the dignified white-haired chef explained that, especially because he's using a new type of rice, it is important to understand the exact character of the particular variety of rice. Each type will cook differently and will absorb the broth differently, he says, stirring more broth into his paella pan. One audience member comments that many Chinese like to eat softer rice and are not used to the 'al dente' firmness of Spanish paella.
Larumbe smiled, "I'm proud to share the authentic flavor of Spain with the Chinese," he said, "but I also want to respect Chinese people's tastes, so I'm happy to adjust the cooking time a bit, although I will not change the flavor of the dish."
A night in Spain
The Spain Pavilion offers a tapas bar for casual dining and a twice-nightly dinner show called Spanish Passion, performed in an intimate theater which seats 90 people.
"We are booking around 50-60 people per show and ensuring that everyone has a great view of the show," says Natalie Lan, who represents the Spanish Pavilion. "Each month we will invite new performers. Right now there is magic, acrobatics, singing and dancing, including a flamenco dancer and pianist."
The singer is no ordinary crooner. Mercedes Chenard is also a trained acrobat who "combines contortionist technique with the lovely voice of a soloist and a stage presence that will transport the audience to a different world," according to the program.
Larumbe's award-winning food plays its own performance: a five-course dinner beginning with his specialty of tapas, including delicacies like Manchego cheese with walnuts and Iberian ham.
Larumbe will continuously update the menu, which now features four different tapas, beef tenderloin with potatoes and chocolate cake, all accompanied by Spanish red wine.
"We have chosen the dishes to represent the excellence of the Spanish cuisine, based on the quality of the product," says Lan. "The spirit of the dishes reinforce a message we believe popular in China: food and how it is cooked, is directly linked to health."
Source:
www.cnngo.com