SAIC YeZ Concept Car inhales C02, emits oxygen
2010. 20 May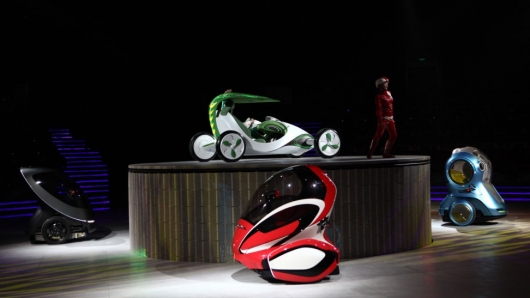 by Mike Hanlon
(gizmag.com) General Motor's Joint-Venture partner in China, Shanghai Automotive Industry Corporation (SAIC) rolled out a concept alongside GM's EN-V at Expo 2010 which in many ways is more ground-breaking than the EN-V. The idea behind the YeZ Concept is that it will photosynthesize, absorbing carbon dioxide from surrounding air and emitting oxygen back into the atmosphere. Among the many futuristic aspects of the YeZ (Chinese for "leaf" as Nissan already uses the name for a clever green concept that is heading for production) is a roof that incorporates solar panels and wheels that incorporate small wind turbines to harvest energy from the environment. And if you think this is not within reach by 2030, think again – artificial photosynthesis has proven elusive, but there's every indication it will be a commercial reality within two decades.
SAIC and GM share an impressive pavilion at Expo 2010 in Shanghai and as with many World Expos prior to this one, the share and functionality of what we'll be driving 20 plus years is being envisioned on the General Motors stand. GM first participated in a world Expo in 1931 and its futuristic visions are this time set in the year 2030.
So although we're totally sold on the EN-V, we also acknowledge that the functionality of the YeZ is probably going to be more than viable twenty years from now, albeit without SAIC's optimism that the car won't need to be plugged in. Not much info has been made available in the YeZ, but SAIC claims it will "work during both sunny and overcast days while also being able to leverage wind power", enabling "mobility with zero greenhouse gas emissions."
Unless solar panel efficiency evolves massively in the next two decades, we expect the YeZ will have a regular appointment at the powerpoint, but heh, that isn't all that bad. At least when you're producing bulk electricity in one spot, you're able to ensure the resultant emissions are appropriately handled.
We're on GM's case to get more detail on the story, and will report further on the YeZ in the near future.
Source:
www.gizmag.com