The Vietnamese Pavilion
2010. 20 May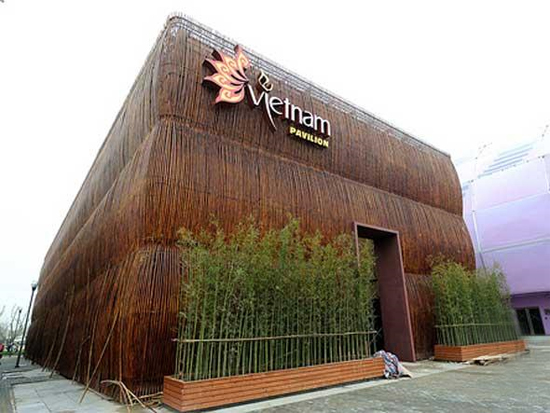 The 2010 World Exposition in Shanghai is the first registered one in a developing country.

by Joe Drury
(dtinews.vn) Vietnam's involvement with China's Expo 2010 has a special significance compared to the other pavilions, as this year marks the 60th anniversary of political relations between the two countries. Vietnam's pavilion, with an area of 1,000 square meters will center upon its capital city with the theme "1,000-year History of Hanoi."
The 2010 World Exposition in Shanghai is the first registered one in a developing country. Officially known as "Expo Shanghai 2010," it will last 184 days and provide China an opportunity to show off its remarkable economic growth. The expo will also give foreign nations and companies a chance to further develop business partnerships with China and Chinese companies. This is the twentieth in an ongoing series that will look at the expo from country pavilions to trade development.

By focusing on this ancient city, the pavilion will delve into the lives of Vietnamese citizens and the rapid development of the national economy since market reforms in 1986. In a Nov. 2009 report, PricewaterhouseCoopers projected Hanoi will be the fastest growing city in the world in terms of real GDP growth for the next 15 years.

As a result of the booming economy, Hanoi and greater Vietnam face environmental problems that need to be addressed. To demonstrate Vietnam's firm commitment to environmental stewardship, the entire pavilion was constructed out of a weaving structure of over 80,000 bamboo rods.

"The Vietnamese Pavilion itself can be seen as an exhibit because it is in the shape of a warehouse and made entirely of bamboo," said Tran Van Tan, the Chief Representative of the pavilion in an April 10 interview with Xinhua.

"We chose bamboo as the main material for our pavilion since it is one kind of natural materials and represents Vietnamese people' s characteristics," added Tan.

Inside the pavilion, visitors can explore Vietnamese culture through traditional Vietnamese musical instruments and performances, along with pottery products from Vietnam's ancient Ly and Tran dynasties.

Vietnam and China officially normalized relations in 1990, leading to a rush of political goodwill and a boom in economic trade. Growth in bilateral trade jumped from US$32 million in 1991 to US$20 billion in 2009.

Trade is only expected to grow between the two rising economic stars, especially in light of a new Free Trade Area established between China and the ASEAN countries—an organization which Vietnam will chair next year.

As a result of improving ties and low tariffs and customs regulations guaranteed by the FTA, officials from both countries estimate bilateral trade will rise to as much as US$25 billion in 2010. The business opportunities facilitated by the Expo will only help make this projection reality.
Source:
www.dtinews.vn