Clinton visits world's fair in Shanghai
2010. 25 May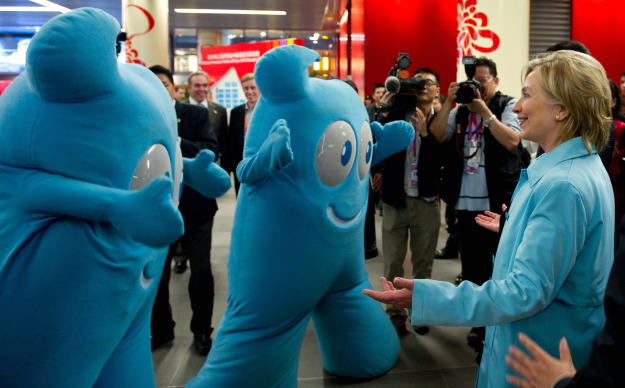 Clinton visits world's fair in Shanghai, not as impressed with U.S. pavilion

by Preeti Aroon
(hillary.foreignpolicy.com) Secretary Clinton visited the Expo 2010 world's fair in Shanghai this Saturday, where you could hear "scattered calls" of "We love you, Hillary!" according to the Washington Post. Above, she greets Haibao, the Expo's mascot. Below, she checks out the logo-festooned USA Pavilion.
U.S. law makes government funding of an American pavilion difficult, so Clinton used her fundraising skills to bring in private money for the USA Pavilion. (See the March FP article, "A Sorry Spectacle." For fairness, check out the rebuttal piece "Defending the USA Pavilion.")
The result: an ugly USA Pavilion.
After mentioning that "corporate America" ponied up $60 million, the Washington Post describes the USA Pavilion this way:
[The USA Pavilion] resembles more a convention center in a medium-size American city than a national showcase -- a warren of dark rooms with movie screens that pales in comparison to the ambitious pavilions of, among others, Saudi Arabia, which features the world's biggest Imax screen, and Germany, festooned with hundreds of giant red balls.…

In addition, the message Clinton experienced at the American pavilion was so larded with corporate advertising that even some of the visiting U.S. officials appeared to have been taken aback.

One film on the creative power of children featured interviews with representatives from corporate powerhouses Chevron, General Electric, Pepsico and Johnson & Johnson, with Habitat for Humanity and the University of Washington thrown in for good measure. That film was aired in the Citicorp room.
A film featuring a girl making her dreams come true and song lyrics that went, "You've got a dream, so plant it in your heart.… You can make it bloom so all the world will see," flashed this message in Chinese on the screen as it was ending, "This film was made by Pepsi."
Still, the USA Pavilion has proved popular among the Chinese. (The pavilion doesn't mention anything about democracy and freedom of expression, with the head of the pavilion's steering committee telling the Post that a main goal was not to be "insulting" to the Chinese.)
When asked her opinion of the Expo in its entirety, Clinton appeared moved and said,"It's so much of a tradition of these expos, all the way back to St. Louis or New York.… It's like a coming-out party for countries and cities. There's a real historical significance."
Asked about the USA Pavilion in particular, she said less enthusiastically, "It's fine."
Well, if corporate America paid for it, then it only makes sense that it should be a "corporate America" pavilion.
Source:
hillary.foreignpolicy.com