Three funny things about Hillary Clinton's visit to the USA Pavilion
2010. 25 May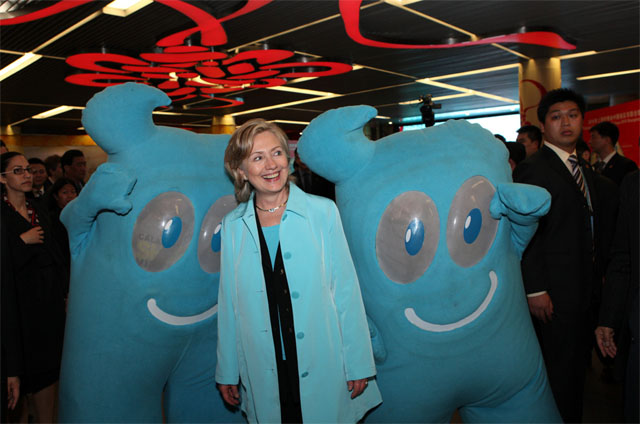 From the Flickr account of the US Dept of State

(shanghaiist.com) CNNGo has a article detailing U.S. Secretary of State Hillary Clinton's visit to the Expo over the weekend, of which I've picked the three little factoids I find the most funny. Like most things on this site that are USA Pavilion related, the type of funny they are leans towards that cringe-inducing Curb Your Enthusiasm-esque type of funny.
1. Hillary Clinton plays matchy match with Haibao


I mean, okay, this shade of cyan actually looks quite good on her. But sandwiched between the two blue wild eyed mascots like this makes me wonder if she's about to start performing in a song-and-dance revue called "How I Saved The Pavilion With My Mad Money Raising Skills Even Though It Wasn't My Job (title subject to change)" . In which case the USA Pavilion would suddenly get a lot more interesting and probably wouldn't have garnered a comment from Clinton like:
2. "It's fine. Can you imagine if we had not been here?"
Judging by the amount of explaining I had to do this last month (which was, interestingly enough, suddenly made easier once Iron Man 2 came out and I could point to the fictional StarkExpo and go "That's what we're doing in Shanghai, only without wily Russians blowing up things"), very few people care. Which is why this wincing review of the final product seems less like a political gaffe and more like some refreshing straight talk - especially considering the fluff pieces the U.S. media had been churning out beforehand.
3. "The U.S. exhibit ends with a gift shop where a great many products — from teddy bears and stuffed bison to silver lapel pins and pink cowboy hats — were all marked "Made in China."" from China Post
This apparently includes the USA Pavilion teddy bears Clinton handed out on her tour. I wonder if the folks at MandMX knew this tidbit before they drew up this particularly apt cartoon:
Source:
shanghaiist.com