Italy's Venice pavilion opens
2010. 27 May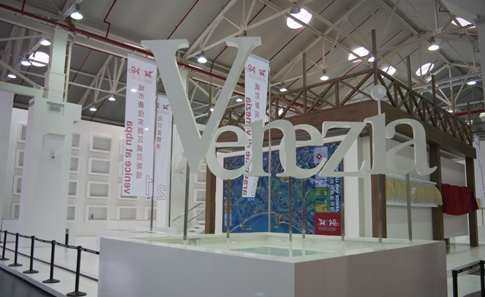 by Xinhua
(news.xinhuanet.com) The Spain and UK pavilions at the 2010 Expo Shanghai have won the 2010 International Awards by the Royal Institute of British Architects (RIBA). The RIBA International Awards reward excellent work being done by RIBA members around the world. The award ceremony will be held in London on June 29.
Italy's Venice pavilion opens
Italy's Venice Case Pavilion at the Urban Best Practices Area (UBPA) was opened on Wednesday. With a theme of "Protection and Utilization of Historical Heritages," the Venice case will showcase the preservation and reuse of historic relics in the city, as well as a harmonious development between people and nature that was made through the efforts of generations of Venetians.
News portal 10 years old
Eastday.com, one of the most influential and comprehensive news portal websites in Shanghai, celebrated its 10th anniversary on Wednesday.
The site, first launched in May 2000, has become the city's largest platform for Internet services, expanding its influence into various industries across Shanghai all the way to the Yangtze River Delta region.
Samsung's Green Week ends
Samsung Electronics, the world's largest memory chip maker, has concluded its Green Week at Expo 2010 Shanghai with a bang.
Seeing the Expo as an excellent chance to showcase its cutting-edge technologies, the company displayed its newly launched environment-friendly household appliances, including mercury-free TV sets and digital products made from green materials, at the Republic of Korea (ROK) Pavilion and the ROK business pavilions.
(China Daily)
Source:
news.xinhuanet.com
Photo: expo.shanghaidaily.com