2009 Zhejiang/Shanghai Travel Fair opens in Shanghai
2009. 13 June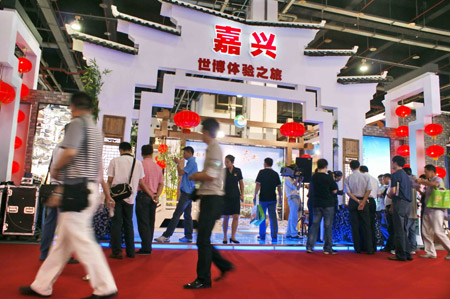 People visit the 2009 Zhejiang (Shanghai) Travel Fair in Shanghai, east China, June 12, 2009.

(english.eastday.com) Zhejiang Travel Trade Fair will be held from June 12 to 14 at the Everbright Convention & Exhibition Center, Shanghai. This is the first province-level travel fair held in the city out of the province, according to the press conference of the fair yesterday.

As the Shanghai World Expo is approaching, Expo travel in Zhejiang is the core of the fair. A series of travel lines promotion, live activities and travel forums will give visitors a full knowledge of Zhejiang's travel resources and Expo lines.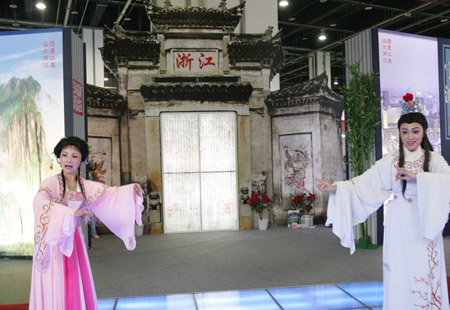 Troupers perform Shaoxing Opera at the 2009 Zhejiang (Shanghai) Travel Fair in Shanghai, east China, June 12, 2009. The fair kicked off in Shanghai on Friday, promoting Shanghai's neighbor, Zhejiang Province's tourist resorts, especially those related to the 2010 Shanghai World Expo.


With 600 international standard booths in 6 sections, the large-scale fair will combine the image display and product selling. Besides local performances, varieties of discount tickets and souvenirs will be offered on the fair. The total value of the attraction tickets and travel souvenirs presented during the activity is expected to exceed 200, 0000 Yuan, said the official with the Zhejiang Tourism Administration.

According to the statistics from the press conference, 82 percent of the 70 million Expo visitors will extend their trip to Shanghai's neighboring cities, and 60 percent will head for Hangzhou, the capital city of Zhejiang Province.
By Wang Jiaye

Source: http://english.eastday.com