Ahmadinejad's China visit in doubt
2010. 10 June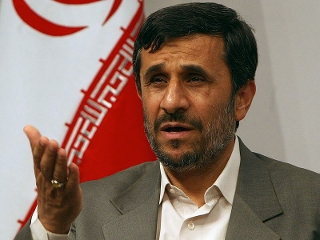 Iranian President Mahmoud Ahmadinejad's trip to China may be put on hold amid tensions over UN sanctions.

(bigpondnews.com) Iranian President Mahmoud Ahmadinejad was due in China on Thursday, but unusually strong criticism of Beijing by Iran's atomic chief could cast a shadow over the trip.
Ahmadinejad was to arrive in Shanghai for a visit officially focused on the World Expo, a day after China backed a UN Security Council move to slap Tehran with fresh sanctions over its nuclear program.
The Security Council adopted a US-drafted resolution hitting Tehran with new military and financial sanctions - measures which Ahmadinejad likened to 'a used hanky which should be thrown in the dustbin'.
China, an ally of Tehran and one of the Islamic republic's major trading partners in recent years, was long reluctant to sign on to the sanctions, and its UN envoy reiterated on Wednesday that the door to talks was still open.
'The new resolution is aimed at bringing Iran back to the negotiating table and activate a new round of diplomatic efforts,' the ambassador, Li Baodong, was quoted by Xinhua news agency as saying.
Beijing and Moscow - which both wield Security Council vetoes - only came into line after months of bargaining in which they watered down the resolution to protect their energy and economic interests in Iran.
In a rare rebuke, Tehran hit out at Beijing for finally backing the sanctions.
'China is gradually losing its respectable position in the Islamic world and by the time it wakes up, it will be too late,' Iran's atomic chief Ali Akbar Salehi told ISNA news agency.
'There was a time when China branded the US as a paper tiger. I wonder what we can call China for agreeing to this resolution.'
Salehi also accused Beijing of 'double standards' by adopting a different position towards its communist ally North Korea, which has abandoned the Non-Proliferation Treaty while Iran remains an adherent.
Tehran maintains its uranium enrichment program is for peaceful civilian purposes, while the West says Iran is covertly seeking to develop nuclear weapons.
Zhu Feng, the director of the International Security Program at Peking University, described Tehran's sharp words for Beijing as 'stunning'.
'This signals how unhappy Tehran has been with China,' Zhu said.
He said Ahmadinejad's visit came at a 'crucial moment' and showed how Beijing was trying to toe the line - welcoming his visit to the Shanghai Expo, but keeping him at arm's length from the country's top leaders.
'It is sort of a tactical approach ... that shows that Beijing will handle this in a very balanced way,' Zhu said.
Ahmadinejad does not have any public events scheduled on Thursday after his arrival in Shanghai, an Iranian embassy official told Agence France-Presse.
On Friday, he is due to visit the Iran and China pavilions at the World Expo, where Iran Day will be celebrated, before giving a press conference in the afternoon, according to Iranian Expo officials.
Source:
bigpondnews.com