Yeoh taken aback by huge expo crowd
2010. 14 June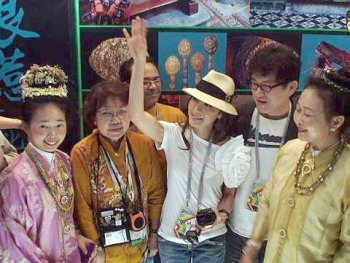 Star attraction: Yeoh waving to the crowd at the Malaysia Pavilion during her visit to the World Expo in Shanghai yesterday. With her are 'Reign of Assassins' director Su Chao-pin (second right) and Malaysia Pavilion manager Ivy See (second left).

by Chow How Ban
hbchow@thestar.com.my

(thestar.com.my) Actress Datuk Michelle Yeoh, who visited the World Expo here, was taken aback by the huge crowd and left after two hours.

"My first impression of the expo was that there were too many people!

"But, I will try to come back to visit more pavilions as many people have put in a lot of effort to showcase the unique things they have," said the international star during her visit yesterday.

Yeoh, who flew in from Europe for the Shanghai Film Festival and promotion of her movie Reign of Assassins, took time off her busy schedule to visit the Malaysian and Taiwanese pavilions.
She checked out the booths displaying food products, batik and other products as well as various exhibitions on the colourful and diverse cultures of Malaysia.
The actress gave the thumbs up to the curry spice products on display, quipping to the Chinese press and visitors: "This is the best in the world!"
"Of course, Malaysia is the first place I wanted to visit because it is my home country. I am very happy to see many people interested in Malaysia.
"I hope that after their visit to the Malaysian pavilion, they will come to Malaysia one day to see the country for themselves," she added.
Throughout her two-hour visit, Yeoh was mobbed by participants, fans and visitors.
She obliged fans who wanted to take photographs with her.
Source:
thestar.com.my