Gov't working to shore up Expo 2010 budget
2010. 24 June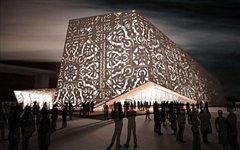 Following reports last week that funding has nearly run dry for the Poland Pavilion at Expo 2010 in Shanghai, government officials were at pains yesterday to illustrate that the situation will not end in a debacle.

(wbj.pl) "This has been a difficult project to organize and to finance, because it's in China," Deputy Economy Minister Rafał Baniak noted. The original budget for Expo 2010 expenditures was zł.130 million, but this was slashed to under zł.40 million because of the economic slowdown.
"Doing it at a third of the cost has been difficult," Mr Baniak lamented. "But the pavilion is there and Expo is still on."
Sławomir Majman, head of the Polish Information and Foreign Investment Agency as well as comissioner general of Poland's presence at Expo 2010, noted that the budget cut had not greatly affected the construction of the pavilion itself. A planned observation deck on the building's roof was abandoned, as was an online virtual tour of the pavilion.
One reason the government's Euro 2010 budget has been depleted so quickly is that it grossly underestimated visitor numbers. The original forecast was 500,000 visitors to the pavilion over the course of the six-month event. By June 22 – less than two months after Expo began – 1,574,519 people had already passed through its doors.
This greater-than-expected flow of people has necessitated bigger expenditures on repairs and cleaning. Visits from official delegations, both Chinese and international, have also been more numerous – and more costly – than expected.
In order to cope with the budget shortfall, the government plans to seek money from new sponsors and from EU funding. These solutions will involve relatively modest sums and they can only be targeted to specific purposes.
To give an example, two previous major sponsors – PGNiG and PKP Cargo – originally paid a total of around zł.500,000 towards the pavilion. Polish officials now hope to attract others who will pay over zł.100,000.
As for EU funds, Deputy Economy Minister Baniak stated some should be secured in July, but that these have to be earmarked for specific events.
Despite the difficulties, Mr Baniak was adamant that Poland's participation in Expo 2010 was good value for money.
"We can call it a success," he stated. "We've got plenty of exposure for not much money." (EBB)
The Poland Pavilion in numbers (May 1 – June 22)
1,574,519 visitors
10-11% of Expo attendees also visit the Poland Pavilion
30,279 people visit the pavilion daily on average
600 Chinese journalists have visited the pavilion
200 press reports about the pavilion have appeared in the Chinese media
150 foreign delegations have visited
Source: Polish Information and Foreign Investment Agency
From Warsaw Business Journal
Source:
www.wbj.pl