Kathmandu Tale
2010. 28 June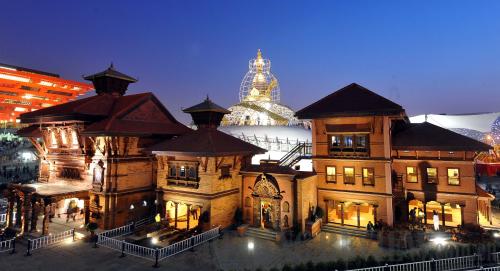 PAVILION BY NIGHT: The Nepal Pavilion presents the country's traditional architecture to visitors at the 2010 World Expo in Shanghai (LUO XIAOGUANG)

(bjreview.com.cn) The ongoing 2010 World Expo in Shanghai has attracted the whole world's attention with its creative pavilions and displays of distinctive cultures. Tanka Prasad Karki, Ambassador of Nepal to China, talked to Beijing Review reporter Yu Yan about his country's pavilion, its tourism campaign and bilateral exchanges between China and Nepal.
Beijing Review: Could you please tell us about the Nepal Pavilion at the World Expo?
Tanka Prasad Karki: The Nepalese people are proudly showcasing their traditional architecture at the Shanghai World Expo 2010. The theme of the Nepal Pavilion at the Expo is "Tales of Kathmandu City." The architecture represents the city and its unique designs of houses and temples. Temples of different religious sects exist side by side in Kathmandu, showcasing our harmonious society.
The architectural design of the Nepal Pavilion centers on a temple depicting the philosophies of Hinduism and Buddhism, and it combines traditional arts and modern structure. The entire area is themed around Swayambhunath Stupa, the oldest holy shrine in Kathmandu. The pavilion thus may well be revered as Manjupatan, the oldest settlement in Kathmandu. We have witnessed an influx of visitors during the initial days of the Expo, and believe our pavilion will continue to attract a greater number of visitors in the coming days. The "Tales of Kathmandu City" is also in harmony with the main theme of the Expo—"Better City, Better Life."
If you are visiting the Expo, I hope that you could also spare some of your time to visit the Nepal Pavilion. Our pavilion with its lofty appearance stands just beside the China Pavilion. So, it is conveniently located and easy for taking a tour. You will have a magnificent view from the closest overhead passage. It is one of the best places to take a photo of the Nepal Pavilion, with the eye-catching China Pavilion in the background.
Our stalls also sell attractive handicraft collections from Nepal, which visitors can buy as souvenirs. Stalls selling food with Nepalese flavors are also attracting numerous visitors.
I would like to tell you September 3 is Nepal Day at the Expo, and we are working on the visit of our president, the Right Honorable Ram Baran Yadav, to China for that occasion.
What's your impression of the Expo?
I joined the diplomatic envoys in Beijing in attending the grand and spectacular opening ceremony of the Expo. In my short stay in Shanghai, I also had the opportunity to visit China's and some other countries' pavilions. The Chinese exhibition hall houses a range of specialties of its diverse provinces, municipalities, autonomous regions and special administrative regions. South Asian countries' pavilions focus on the region's ancient aspects and arts as well as contemporary life. The Africa Joint Pavilion also successfully showcases their unique features, while European countries have brought out excellence in innovative technologies. I liked seeing all these pavilions, and believe every country or institution is successfully bringing out their talent and caliber.
You have been working in China for more than two years. Which Chinese cities have you been to? Which city do you like best?
Yes, it is about two and a half years since my arrival in Beijing. During this time, I have traveled to several places in China and have had opportunities to educate myself about the richness of its culture and society.
By asking about my most favorite city in China, you have really put me in a dilemma. I am deeply impressed by the progress China has achieved in every aspect, especially after the reform and opening-up policy of the late 1970s. The beauty of each place is uniquely superb. Among the places I visited, Wutai Mountain (in Shanxi Province), Jiuzhaigou (Sichuan Province), Xiamen (Fujian Province), Guilin (Guangxi Zhuang Autonomous Region) and Dali (Yunnan Province) are blessed with unmatched scenery. But I am not doing an injustice to the marvels of other places by not mentioning their names. Xi'an (Shaanxi Province), which is Kathmandu's sister city, holds historical and cultural legacies of ancient China. No one may fail to notice Chongqing's economic prowess and Shanghai's vibrancy as one of the world's important economic and commercial hubs. Beijing is a big, beautiful and simple, yet mysterious capital city. I am really enjoying my life here.
This year marks the 55th anniversary of the establishment of diplomatic relations between China and Nepal. How do you view the bilateral exchanges and cooperation between the two countries?
It is indeed a pleasure to celebrate the 55th year of establishment of diplomatic relations. The history of our cultural, social and economic relations with China goes back centuries, even though the diplomatic relations were only established in 1955. Historical records show Nepal and China have had official links through the exchanges of envoys since the 7th century. Chronicles have recorded evidence of the excellent relations, trust and cooperation between Nepal and China for centuries.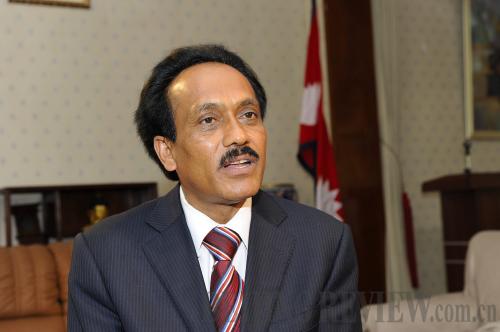 "Historical records show Nepal and China have had official links through the exchanges of envoys since the 7th century. Chronicles have recorded evidence of the excellent relations, trust and cooperation between Nepal and China for centuries." —Tanka Prasad Karki, Ambassador of Nepal to China
Since 1955, our relations have been ever growing to new heights in terms of maturity and content, featuring a comprehensive partnership of cooperation centering on everlasting friendship. Nepal and China enjoy excellent bilateral relations in all fields, such as economic cooperation, trade and investment and culture.
On the economic side, China is one of Nepal's reliable development partners. China's cooperation with Nepal started as early as the 1950s. Nepal has been cooperating with China in various areas including industrial infrastructure, transportation and human resources development. Several development projects have been completed. Some are in the pipeline. And negotiations for new projects are ongoing. The importance of the cooperation has been more significant because of the historic transition Nepal is experiencing.
Currently, the only big-scale border trading point is Tatopani. We hope the Qinghai-Tibet railway extends further south as early as possible. This will bring about positive impacts on the quality of lives of people in the border areas of both countries. Further, enhanced transportation across the Nepal and China border will multiply opportunities for bilateral trade, and contribute to recovering an existing trade imbalance. Though the bilateral trade has surged ahead satisfactorily over the years, there exists a huge trade deficit in China's favor.
It is the priority of the Government of Nepal to promote transit economic activities in its territory. There is immense potential for expanding trade between China and South Asian countries. As the regional process moves ahead positively, including China's joining of the South Asian Association for Regional Cooperation (SAARC) as an observer in the last few years, opportunities to forge greater collaboration between China and South Asian nations have increased.
Could you explain the long-time and close cultural ties between our two countries?
On the cultural side, I feel moved to refer to our time-tested relationship as age-old. The introduction of Buddhism to China marked the beginning of historical cultural exchanges between the two countries. Revered monk Buddhabhadra, who arrived in Qingdao (Shandong Province) in 409, gave continuity to that journey. The marriage of a Nepalese princess Bhrikuti to Tibetan King Songtsan Gampo in the 7th century and the construction of landmark architecture in Tibet, Beijing and Wutai Mountain by Nepali architect Araniko in the 13th century symbolize the glory of our relationship.
Buddhism has always been an inextricable side to Nepal-China relations for a long time. Nepal, as the birthplace of Shakyamuni Buddha, has a sentimental attachment to all believers and those interested in Buddhism. Along with Mecca and Jerusalem, Lumbini is one of the three most sacred places in the world. Our cultural links based on Buddhism have created better understanding and trust between the peoples of both countries. We consider this aspect an important part of cultural diplomacy in further developing Nepal-China relations.
Nepal has launched the national tourism campaign "Nepal Tourism Year 2011." What measures is Nepal taking to attract international tourists?
Nepal is an exotic destination for tourists. Its charming natural beauty lures thousands of travelers to visit every year. It is one of the wonderlands on Earth, and seeing it must not be missed in one's lifetime. Situated in South Asia with diverse climatic zones and landscapes, Nepal is not only famous for natural beauty, but also as home to an ancient civilization and exotic cultures. Nepal, where more than 60 ethnicities and people speaking more than 100 languages live in harmony, boasts a mosaic of cultural diversity.
Nepal is the first country in South Asia the Chinese Government approved as an outbound tourist destination for Chinese. Every year thousands of Chinese visit Nepal for pleasure as well as for religious purposes. We are hoping to welcome 100,000 Chinese visitors in 2011, the year we are celebrating Nepal Tourism Year.
I would certainly recommend some paradises of the "wonderland beyond fairytale." Mt. Everest, in the north, to panoramic reflection of Fishtail Mountain in Fewa Lake in Pokhara valley in the middle, breathtaking lakes in the west to rare species of flora and fauna in the south. In my view, a tour package including, but not limited to, Kathmandu, Pokhara and Lumbini, and well connected up to Lhasa, forms a perfect triangle to explore the entirety of our natural and cultural attractions.
Source:
bjreview.com.cn