Crowds at World Expo a double-edged sword
2010. 29 June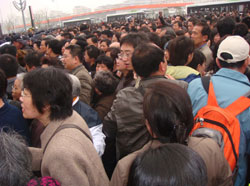 Almost two months into its inception, the Shanghai World Expo 2010 is continuing to draw huge crowds, with nearly half a million visitors entering its gates every day.

(etravelblackboard.com) The largest ever World Fair, with 189 countries and 57 international organisations participating, has muted critics who initially doubted whether Shanghai would attract its 70 million visitor target.
A Shanghai World Expo bureau spokeswoman told e-Travel Blackboard that certain pavilions were becoming more popular among the Chinese, especially the Japan pavilion and a few in the European Square.
Crowds are also being managed better compared to the chaotic opening day, she said.
"Good news is the expo bureau is taking measures to scatter the flow of crowds between two sides of the river in order to promote the corporate pavilions on the other side," she said.
"For example, if visitors have seen the best city practice area and collected enough stamps from the pavilions' side, they are able to go to some national pavilions by green channel."
However, Adventure World Asia Sales Manager Carolina Oriani, who recently visited the World Expo, said lines into pavilions were the predicament.

She told e-Travel Blackboard that the waiting period for entry into the Expo takes up to 6 hours if you do not have a group booking, in which case it still takes an hour.
Entry into some pavilions also takes hours, she said, with the line into the Australia pavilion taking 4 to 5 hours.
But while visitors tackle the crowds at the Expo, China's hotel industry is reaping the benefits, with Shanghai's hotel market finally picking up after two downcast years.
In May 2010, STR Global said average room rates reached nearly RMB 1000 (US$147.3), a level not seen since October 2008.
Occupancy during the month exceeded those recorded in 2007, hitting 72 percent while room rates hiked 29 percent year-on-year. RevPAR was RMB 700 for the market, a number not seen since November 2007 and a staggering 99 percent increase on May 2009.
Even the top-tier hotel market has benefited, with the 5 star market reporting occupancy of 79 percent at an average rate of RMB 2,091 for the month of May, resulting in RevPAR growth of 105 percent compared to May 2009. 
"I don't think many would have hoped for such positive results and strong start to the year" said Zoe Wu, Director of Horwath HTL in Shanghai.
"Let's hope Shanghai is in for a glorious 2010 and the gloomy times of 2008 and 2009 are well behind us."
Source:
www.etravelblackboard.com