Untraveling 'mysterious' India
2010. 9 July
Visitors' first impression of the India Pavilion is likely to be its distinctive, majestic architecture, which features a crimson central dome.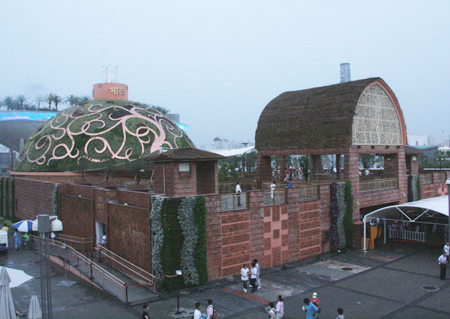 India Pavilion at Shanghai World Expo [Yuan Fang/China.org.cn]

by Yuan Fang
(china.org.cn) The dome was inspired by the Sanchi Stupa, which is one of the best preserved ancient Buddhist monuments in India, and is seen as a symbol of the country's 'unity in diversity."


Inside the pavilion, pictures and exhibits take visitors on a journey through thousands of years of history, showcasing the country's diverse traditions, cultures, lifestyles and languages. The story leads us to the present day as tradition and technology combine to integrate urban and rural India and build a modern, dynamic country.
"India is a vast but diverse country. We respect each other's religions, beliefs and understanding and then we grow together and make a better city where everybody lives happily and follows their own lifestyles," Rajesh Kumar, Organizing Team director of the pavilion, told China.org.cn in an exclusive interview.
Rajesh Kumar, Organizing Team director of India Pavilion [Yuan Fang/China.org.cn] 
The Indian Pavilion has arranged a series of cultural events to entertain visitors.
At a Bollywood Dance and Music night show at the World Expo Culture Center on July 17, visitors will be treated to a feast of authentic Indian songs and dances.
"We have invited 600 artists from our country to perform in the pavilion during the six months of the Shanghai World Expo. In fact, every week, we have Oscar winning, President-awarded, Premier-awarded, internationally-recognized artists to perform in the Pavilion," said Kumar. "Most people say India is a mysterious country. We want to reveal the mystery and tell them what India is all about, what our culture is."
Absorbed in the diverse cultures on show in the pavilion, visitors may overlook the hi-tech aspects of the structure.
The pavilion has the world's largest bamboo dome with a span of 35m, and a height of 17m. On the top of the dome are many shrubs and plants that help shade visitors from the fierce Shanghai summer. The pavilion also uses solar panels and wind turbines to generate power.
The world's largest bamboo dome in India Pavilion [Yuan Fang/China.org.cn]
The Indian Pavilion welcomes around 25-40 thousand visitors per day.
Kumar is enthusiastic about the Shanghai World Expo.
"China has successfully created a platform where so many countries are here and we have a lot of things to learn from each other, like the whole world in one place," he said. "Participation in the expo is a global reward as a member."
Fast Facts of Indian Pavilion:
Theme: Cities of Harmony
Location: Zone A of the Expo Park
Total Area: Approximately 4,000 square meters
National Pavilion Day: August 18
Key Feature: Central Dome made of bamboo.
Source:
www.china.org.cn