The Wise Man's Timber
2010. 16 July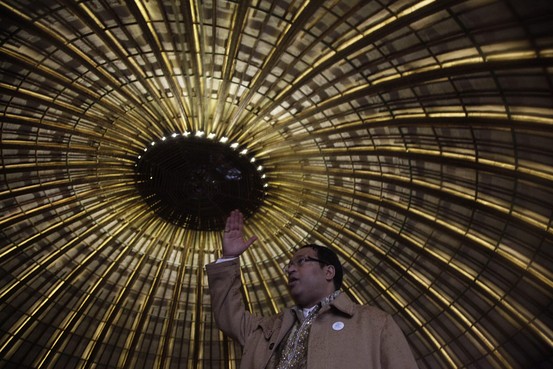 Rajesh Kumar talks about the bamboo dome constructed to represent India at the World Expo.(Associated Press)

by James T. Areddy
(blogs.wsj.com) Hidden amongst the glass, cement and steel of Shanghai is bamboo. The spindly green grass is a feature at nine pavilions at the city's World Expo, and proponents say the event has pushed the boundaries of how bamboo can be used.
India's pavilion sports perhaps the world's largest bamboo dome, soaring 17 meters (about 56 feet). Vietnam's building entry aims to replicate a forest with bamboo columns.
Norway uses bamboo-based panels, and Peru structures its walls with bamboo and clay. With an outside of bamboo, the Madrid pavilion is a mock-up of a low-cost housing project for that city. (The exterior of Spain's pavilion is a tapestry of rattan, a type of palm.)
In a conference this week in the India pavilion and sponsored by the International Network for Bamboo and Rattan, or Inbar, architects and designers touted bamboo's properties.
Speed is bamboo's defining characteristic. It grows up to 1.2 meters (nearly 4 feet) per day, faster than any plant aside from some seaweeds. In tropical conditions, it may rise 30 meters in 45 days and can be harvested in four or five years, then grows right back. "There's no timber that does the same and provides you the same amount of materials," says J. Coosje Hoogendoorn, director general of Beijing-based, United Nations-backed Inbar.
In "Bamboo: The Wise Man's Timber," a brief Inbar promotional video previewed at the conference, the list of benefits went beyond its growth pace.
Bamboo, according to the film, absorbs carbon, provides forest cover, prevents soil erosion and "is cool" — skateboarders and snowboarders stand on it. Bamboo is food and flexible. When carpenters incorporate bamboo into distinctive flooring, it can represent a transfer of wealth from rich to poor.
Inbar says 1.5 billion people, or nearly 25% of the global population, use bamboo in their lives. It values the industry at $5 billion.
But bamboo has urbanized more slowly than people have, according to Hoogendoorn. As people in the countryside know which cow produced the milk they drink, but city dwellers think of milk as something that comes in a carton, the potential urban base of users of bamboo isn't familiar enough with the plant's origins.
A possible reason bamboo's prospects have been slow to materialize: It can be a hassle.
Even supporters at the conference were quick to point out the limitations. "It gets moldy too fast, which is the basic problem with transportation," says Lin Hai, president of Hangzhou-based Dasso International Group, a major maker of bamboo flooring and other products.
Bamboo can crack when introduced to a cooler, drier climate. If it isn't heated first, bugs will attack the sugars in bamboo. Its fibrous consistency means splinters are common, and sharp. Bamboo, in a finished form, can be pricey.
And put to use, bamboo isn't necessarily "green," since glues, laminates and other critical components can offset its environmental benefits.
For bamboo huggers, the Shanghai Expo's India pavilion epitomizes the possibilities.
The idea of a bamboo dome, says its designer, D.R. Naidu, originated with Japan's pavilion at Expo 2000 in Hanover, made of paper tubes. Naidu also incorporated his knowledge of massive festival structures used in Calcutta and thought, "We can definitely do bamboo."
The dome, ultimately modeled on Sanchi Stupa in Madhya Pradesh, features a 34.4-meter diameter and 17-meter height. It uses 12 kilometers (7.5 miles) of bamboo linked into 36 beams, all of it harvested from nearby Anji, in Zhejiang province.
In marveling at the dome, no one much wants to discuss the four green strips of steel that rim the structure hold it in place, nor the cement and PVC needed to keep out the rain.
The feature underneath the bamboo dome: a 3-D movie.
– James T. Areddy. Follow him on Twitter @jamestareddy.
Source:
blogs.wsj.com