Next Big Thing
2010. 26 July
Ideas, inventions and gadgets at the Expo might revolutionize people's life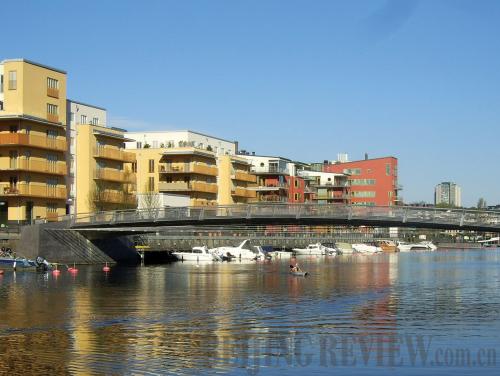 SWEDISH MIND: The photo shows a corner of Hammarby Sjostad in Stockholm, a model district of energy-efficient buildings and integrated urban planning built on wharfs and docks (MALENA KARLSSON)

by Li Li
(bjreview.com.cn) Since their inception in 1851, World Expos have been without a doubt international cultural galas where people can have a visual tour around the world and meet new friends from afar. They can also watch performances of all kinds and sample exotic foods. And more importantly, Expos have also been the venue to exhibit the newest innovations and technologies, such as telephones, automobiles, light bulbs, airplanes and television sets. The ongoing Expo in Shanghai also exhibits some progressive ideas and inventions, giving us a glimpse into the future.
City of the Future—Symbiocity
Exhibition Venue: Sweden Pavilion
How Long: Being Realized
Few visitors to the Sweden Pavilion could ignore the colorful pipes painted on walls. According to Annika Rembe, Commissioner General of the pavilion, these colorful pipes symbolize that everything in cities is connected and people need to take a holistic approach by combining the ecological, economic and social aspects of issues together to build a sustainable city.
Symbiocity, the idea of sustainable urban development, is the trademark that reflects all the knowledge and experience of Sweden, which discovered this development path from its own failed experience. In the 1950s and 1960s, people wouldn't even dip a toe in the polluted waters around Stockholm. Swimming and fishing were forbidden. Today, bathers are everywhere, and fishing in central Stockholm is popular.
In February 2009, the European Commission declared Stockholm European Green Capital 2010, making it the first city to receive the title.
The Symbiocity approach finds and takes advantage of the links between energy, waste management, water supply, sanitation, transport, landscape planning, sustainable architecture, urban functions and cultural functions in order to optimize the results, according to information provided by the Swedish Trade Council.
For example, organic waste from restaurants, grocery stores and households can be used to produce biogas. The methane in the biogas can be used for heating, cooking, electricity production and fuel for transport vehicles. And the residue can be used as fertilizer.
Today less than 20 percent of household waste in Sweden is deposited in landfills, according to the trade council. In Stockholm, 75 percent of all waste is collected for recycling or use as fuel. For household waste, the figure is 95 percent. Since the 1970s, the dependence on oil for heating and electricity production in Sweden has gone down by 90 percent.
Hammarby Sjostad in Stockholm, a model district of the integrated planning approach, has the features of automatic underground waste collection systems, district heating and cooling fueled partly by local waste collection and by heat exchangers in water treatment, solar-powered hot water and electricity.
Swedish expertise in the Symbiocity approach has been exported to countries like China, Canada, Ireland, South Africa and Britain, as a source of inspiration for urban planning.
Hebei Province's Caofeidian, a city about 200 km southeast of Beijing, is building a climate-neutral eco-city. Sweden-based consulting engineering co., Sweco, has been commissioned to perform an analysis and draw up a strategy for the sustainable planning of the first phase of the city, covering an area of around 30 square km. Dr. Ulf Ranhagen, Sweco's chief architect and the developer of the Symbiocity concept, is in charge of the Caofeidian project.
"The solutions cannot be copied, but the mindset of looking at synergy to combine economic, social, ecological and spatial aspects on sustainable development stay the same," said Ranhagen.
Cars of the Future—YeZ and EN-V
Exhibition Venue: SAIC-GM Pavilion
How Long: 20 Years From Now
GREEN MOBILITY: YeZ, a concept car mimicking photosynthesis developed by Shanghai Automotive Industry Corp. (SAIC), is displayed at the SAIC-GM Pavilion (COURTESY OF JAPAN PAVILION)
Since people already have constructed carbon-neutral communities that are extremely energy efficient, why not build cars with zero carbon emissions, or even better, negative emissions in the future?
This is not too big a dream. YeZ, a concept vehicle designed by Shanghai Automotive Industry Corp. (SAIC), absorbs carbon dioxide from the air and emits oxygen back into the atmosphere. The concept is exhibited at the SAIC-GM Pavilion with the theme of "Drive to 2030."
YeZ, meaning leaf in Chinese, uses a gigantic leaf-shaped roof to shelter the two seats. The leaf is more like a canopy and makes the space half open. The roof is imbedded with dozens of tennis ball-sized silver panels, which are photovoltaic panels that can automatically adjust their angles to more efficiently track sunlight anytime. The solar power system will serve as the vehicle's main source of energy even on overcast or rainy days. The veins of the leaf are illuminated and can flash on and off to show the energy flow while traveling.
The concept car adopts three technologies to achieve its groundbreaking feature of artificial photosynthesizing. Besides using solar power to drive the engine, the car also incorporates small wind turbines in its wheels to harvest energy from the environment. Most importantly, engineers creatively included the technologies of turning carbon dioxide in the air into kinetic energy and converting high concentrations of carbon dioxide into electricity for the vehicle's lighting or as the vehicle's air-conditioning refrigerant. SAIC has spent about one year developing this model from scratch. The vehicle's maximum speed and load are 70 km per hour and 140 kg respectively.
"The reason we opted for half-open space instead of enclosed space is to symbolize that man and nature can eventually merge into one," said Gu Yuqing, a SAIC engineer who participated in the designing.
He said that although it could be decades before YeZ goes on sale, its features and technologies have been used on other SAIC cars that are about to hit the market. These cars include E1, a pure electric four-seater that made its debut at this year's Beijing International Auto Show and is expected to be mass-produced in 2012.
SAIC's partner GM also exhibits three models of its EN-V (electric networked-vehicle) concept, named as Jiao (pride), Miao (magic) and Xiao (smile) in Chinese. Despite the difference in color and shape, the three models share the same underpinnings. They are all two-seaters running on two electric motors, one in each "driving" wheel. The motors are powered by lithium-ion phosphate batteries, which can be recharged via a standard wall outlet. The motors also provide "braking" for the vehicle, which is completely drive-by-wire and can be controlled manually or autonomously. In autonomous mode, the EN-V uses vehicle-to-vehicle communications, global positioning system and distance sensing technologies to enhance safety.
MODEL BUILDING: The six-storey Broad Pavilion, whose parts were factory-made and installed in one day (LI LI)
"EN-V reinvents the automobile by creating new vehicle DNA through the convergence of electrification and connectivity," said Kevin Wale, President and Managing Director of GM China Group. "It provides an ideal solution for urban mobility that enables future driving to be free from petroleum and emissions, free from congestion and accidents, and more fun and fashionable than ever before."
Buildings of the Future—Factory-made and Sustainable
Exhibition Venue: Broad Pavilion
How Long: Waiting for Mass Production
Rome wasn't built in a day, but the Broad Pavilion was. From a three-minute movie, visitors to the pavilion can see that on March 6, Broad Air Conditioning Co. built the six-floor 2,000-square-meter building, including external walls, windows, floors and roof in 24 hours. All components were factory made and assembled by bolts, without traditional civil engineering and decoration. According to the Broad Pavilion, besides the unbelievable speed of construction, the building's parameters have proven that it is highly safe, energy efficient and healthy.
The building's Level 9 Earthquake Resistance, tested and certified by the China Academy of Building Research, is achieved by its diagonal bracing structure, light weight and steel construction, according to the company.
The company's brochure said the building only uses one sixth the materials of conventional construction. Even though the construction materials are much lighter (250 kg per square meter) than traditional materials (more than 1,500 kg per square meter), the floors and walls are airtight and soundproof.
The pavilion is five times more energy efficient than conventional buildings because of the adoption of a 15-cm thermal insulation for walls and roofs, triple glazed plastic windows, external solar shading, fresh air heat recovery and LED lighting.
COLORFUL AND RECYCLABLE: Hosts and hostesses from the Germany Pavilion in outfits made of eco-friendly material take a break (LI LI)
The indoor air is 20 times cleaner than the outdoor air. The efficient air purification system has three levels and the air is exchanged up to 2.5 times per hour.
"We want to show visitors that this can house their future homes: comfortable, refreshing and with a small electricity bill," said Zou Fengming, a guide at the pavilion. Zou said the construction cost for this building is 3,000 yuan ($441) to 4,000 yuan ($588) per square meter, which is a little higher than that of conventional buildings. "But mass production of buildings in the future can greatly drive the price down," she said.
The factory-made model shouldn't scare away people who want to use home interior decoration to show their personality, said Tang Ying, head of the pavilion. "You can decorate the interior space to your own tastes and the building's facade can be tailor-made," said Tang.
Starting as an air-conditioning manufacturer 22 years ago in Hunan Province, Broad has managed to become an exporter of non-electric chillers to more than 70 countries. Broad says that their absorption chiller can be twice as energy efficient as conventional air conditioning by turning heating directly into cooling and avoiding energy losses from traditional air conditioner's multiple energy conversions to produce heat. Broad's chillers provide central air conditioning to all Expo pavilions.
In recent years, the company invested generously in the research of construction's energy efficiency. In June 2008, Broad set up an energy efficiency company with the "highest building energy efficiency" as its goal. The prospects to promote Broad-standard sustainable buildings look very promising.
"Cities from across China compete to be the next location of our pavilion after the Expo and we are also under negotiation with many city governments to construct similar sustainable buildings up to 50 floors high as model projects," said the energy efficiency company's general manager Fu Lixin.
Clothes of the Future: Recyclable and Biodegradable Textiles
Exhibition Venues: Germany Pavilion and Japan Industrial Pavilion
How Long: Available Now
What have designers of staff outfits at Expo pavilions aspired for? A strong national flavor? Yes. A smart and stylish look? Absolutely. But another thing most designers bear in mind is to choose environmentally friendly, even biodegradable, materials and fabrics in keeping with the Expo's green agenda.
Sustainability is an important issue for the German representation at the Expo 2010. This begins with the clothes for the hostesses and hosts at the pavilion. The designing team of Novanex, an Erfurt-based company for design and product development, not only possesses unique know-how in the development and realization of individual clothing concepts but also specializes in sustainable textiles. The entire line is made in Germany. This both proves the ecological expertise of German industry and keeps down the carbon footprint during the production process.
There is a concept behind all of the skirts, dresses, trousers, jackets, hats and bags, which mixes style and functionality with eco-friendliness. "The outfits are worn daily. So the clothing line must be very recognizable, as well as easy to clean and durable, because Shanghai's hot and humid climate, in particular during the summer months, demands daily cleaning," Pavilion Director Urte Fechter explains. Novanex, therefore, chose the Eco Circle fiber, a hard-wearing, specialized polyester fiber produced by a Japanese company Teijin. The material can be reclaimed as an actual textile fiber in a recycling process.
Teijin's Eco Circle is a closed-loop recycling system incorporating the world's first polyester chemical recycling technology. The system chemically decomposes polyester for conversion into new polyester raw materials that offer purity comparable to those derived from petroleum. The same fiber is also used in uniforms worn by staff at the Japan Industrial Pavilion, which will be collected and recycled after the Expo.
Teijin's Biofront heat-resistant bio-plastic is used in silk crepe kimonos worn by staff at Murasaki, a restaurant in the Japan Industrial Pavilion. Biofront, an environmentally friendly bio-plastic produced from plant-based feedstock, is superior to conventional bio-plastics in terms of both heat resistance and durability. Its melting point of 210 degrees Celsius is significantly higher than the 170 degrees Celsius melting point of conventional bio-plastics, which allows Biofront to withstand ironing and fabric dyeing.
The white T-shirts of the Germany Pavilion uniforms are also made according to the principles of sustainability. They have all the properties of ordinary cotton clothing but can be composted when they are worn out. "As soon as the cotton shirts come into contact with certain bacterial cultures they are completely broken down. And the dyes and buttons are biodegradable too," Alexandra Baum, General Manger of Novanex, explains. The plan is to bury the shirts on the Germany Pavilion plot when the Expo is over, so they can nourish the trees that are to turn the Expo site into Shanghai's first "green lung."
Robots of the Future
Exhibition Venue: France Pavilion, Urban Best Practices Area, Japan Pavilion and Japan Industrial Pavilion
How Long: Unknown
ROBOTIC MUSICIAN: With its dexterous hands, a Toyota-developed Partner Robot plays Jasmine Flower, a famous Chinese folk song, on a violin at the Japan Pavilion (LI LI)
In recent decades, robots have taken on many more tasks besides just assembling machines. Humanoid robots displayed at the Expo show that they might one day become mankind's competent and intelligent domestic assistants and loyal friends.
Humanoid robots Nao, developed by the French company Aldebaran Robotics, meet with visitors at the France Pavilion and an exhibition on Paris in the Urban Best Practices Area. Guides at both venues, the 58-cm-tall robots include a computer and networking capability at their core and speak to people in English, French and Chinese. The versatile robots can sing, dance, do taiji boxing, play jazz and kick footballs.
One of the most impressive exhibits at the Japan Pavilion is its violin-playing Partner Robot, which was developed by the Toyota Motor Corp. in response to Japan's growing need to take care of the aging population. The Partner Robot is designed to help out the elderly with nursing, medical care and housework. The joints of the hands and arms are coordinated by a sophisticated control mechanism, allowing delicate, human-like movements, including accurately fingering the violin's strings and moving the bow across them to make music.
The most hard-working robots at the Expo are none other than the ladder-climbing robots on the western facade of the Japan Industrial Pavilion. The three 1.4-meter-tall robots climb up and down a height of 20 meters. Japanese engineer Tamai Hirohumi told Xinhua the robots are more flexible because of special chips embedded in their joints."They could replace people doing dangerous work high above the ground," he said.
Source:
bjreview.com.cn