Green cars drive into green Shanghai Expo
2010. 2 August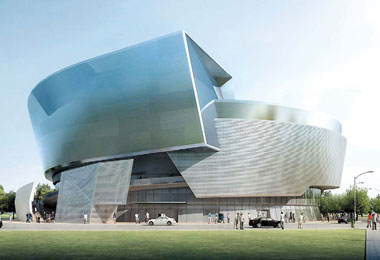 A brighter vehicle life in 2030 was shown in SAIC-GM Automotive Exhibit Hall in World Expo: "zero emission", zero traffic accident; away from dependence on petroleum, away from traffic jam; automatic drive, even the blind are able to drive -- the green cars shown and running in Expo park make us believe that maybe all of them will be true.

(autos.globaltimes.cn) I. April 11, the Expo Park public-traffic program was published. In the Expo Park, two bus lines among of the three adopted pure electric buses, and another one used super capacitance bus, meanwhile, two tourist lines were equipped with hydrogen fuel tour bus. After the Expo Park was open, bus lines would be added to 6 from the current 3 ones, and the total running distance reached 19 kilometers.
On the same day, the concept vehicle, "Leaf", researched and developed independently by SAIC, made its world debut in SAIC-GM Automotive Exhibit Hall in the Expo Park. Besides fresh design, "Leaf", with a giant "green leaf" on its head, steps across "zero emission" and realizes "negative emission", and shows people the brighter city traffic life in 20 years.
 
Four days later, Shanghai Word Expo science and technology -- green cars delivering ceremony was held with the theme "Green commuting, let Expo cleaner". The delivered 40 different-model clean energy vehicles represent the highest level of current China green cars, most of which were researched and made by SAIC.
May 1, the Expo opened. A pure electric concept car E1 was shown in low-carbon area in China Pavilion. The car is a pure electric car developed independently by SAIC aiming at the international advanced level, whose body design adopts One Box concept and expands its inner space by the greatest extent. Mass production of the car is planed to be achieved at the end of 2012.
II. The concept, "low-carbon Expo", was proposed By Shanghai World Expo. Organizer promised that traffic "zero emission" would be implemented in Expo Park and "low emission" around the Park.
More than a thousand green cars run in and out of Expo Park. This is another concentrated display of our green cars technology and achievements after 2008 Beijing Olympic Games, and is also the demonstration of the largest-scale green car commercial operation in the world now.
It is reported that those more than thousand vehicles can be divided into three categories including approximate 300 pure electric vehicles (contain super capacitance bus), about 200 fuel cell vehicles and 500 hybrid electric vehicles.
For the three-category green cars demonstrate and run at the same time, the requirements of vehicle safety, reliability and cost in connection with them are high, as well as little time and heavy tasks. At the beginning of this year, reporter had an interview with Chen Hong, president of SAIC. He expressed that as far as technical difficulty, at present, for the automobile companies at home and abroad, there were many technical difficulties in the green car's industrialization, especially key parts technology, and hard work is necessary to reach the function of traditional fuel vehicle.
Under the support of Shanghai Municipal Commission of Economy and Information, SAIC makes "battery + electric motor + electric control" and other key parts the breakthrough, speeds up the formation of independent industrial system and industry cluster with leading domestic and international competitiveness.
In order to make the operation in the Park achieve high effective and low consumption object as well as "zero emission", in addition to the development of more than one thousand green cars, other programs are being implemented synchronously, such as buildings of hydrogen refueling station, charging station, green parking lot and other subsidiary facilities, conceiving of intelligent transportation network, formulation of operation plan and integration of related resources.
There is such an estimation made before Expo Opening that 10,000-ton traditional fuel will be saved, 118-ton hazardous substance and 28,400-ton carbon dioxide emission will be reduced through operation of more than one thousand green cars in the whole Expo period. These figures are really inspiring.
Ma Jing, the general engineer of Shanghai Municipal Commission of Economy and Information, is always paying close attention to the safety running of green cars. He said that from starting preparation in Expo Park in the last ten-day of April to now, the general running situation of green cars in Expo Park was very well without any safety issue, and survived the test of large passenger flow over 500,000 people in Expo.
According to Wan Gang, minister of the Ministry of Science and Technology, green cars in Expo, no matter the most advanced fuel cell vehicles in the world, independently researched and developed by Shanghai, or the pure electric vehicles generalized as national strategy, or the hybrid electric vehicle which has formed the largest scale industrialization in industry promotion, all would become the demonstration of large scale commercial operation of green cars and the new milestone of advanced automotive technology.
The success of large-scale demonstration operation of green cars in Expo will greatly promote the development of green cars of China.
Source:
autos.globaltimes.cn