Miss Expo 2010
2010. 3 August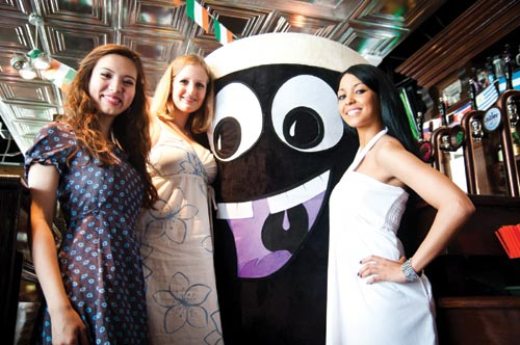 Beauty is in the eye of the beer holder at the Porterhouse

by Leslie Jones
(shanghai.urbanatomy.com) Forget Miss Universe, there's a new crown in town: More than 100 international ladies will compete, but only one will snag the Miss Expo title. It's all going down at the Porterhouse Brewing Company, an Irish pub in Expo Area C between the Belgium and Polish pavilions, where throughout August the a bevy of beauties will compete in batches of eight every Monday, Wednesday and Friday at 7pm.
They'll each be interviewed by a panel of judges comprised of Expo staff. Each contestant has 10 minutes to present a talent, and they're encouraged to wear their country's traditional dress. If they can clear Expo customs with their apparel, that is, "Our national costumes are really huge," explains Czech contestant Irena Polenikova. "I have to talk to my boss about it. We've already had problems getting stuff in for expo."
If bikinis and cat fights fuel your pageant penchant, Miss Expo will disappoint - this is one of those nicey-nice, no-swimsuits affairs. It's modeled after The Rose of Tralee, an Irish pageant judged on personality and character, according to Porterhouse spokesman Brendan Brophy.
So while we shouldn't expect spiked makeup, pepper-sprayed gowns or any of those dirty tricks that have pop up in previous pageants, that's not to say some pavilions aren't bringing their A-game. Nineteen-year-old college student and Canada Pavilion worker Ting Jia Lorigiano won the people's choice award in the 2009 Miss Universe Canada pageant, and was a finalist in the Miss Chinese International competition in 2008.
"I came home from camp one summer and my mom gave me a bathing suit and a pair of heels and said 'You're going to compete in Miss Chinese Montreal,'" Lorigiano explains the birth of her beauty queen quest. She plans on playing saxophone for her Miss Expo talent.
Namibian Pavilion ambassador, 22-year-old Tanya Weimers, is also no stranger to a tiara or two - she's competed in Namibia and South Africa and is eager to represent her country on a global stage, "In Namibia beauty is how you carry yourself and how you treat others," Weimers explains. "A true African Queen carries herself with dignity, pride and sincerity." Zing! Sounds like a pre-packaged, pageant-ready slam dunk if ever there was one.
Twelve women will advance to the final round in September, with whoever clinches that coveted Miss Expo crown winning a round-trip to London on Virgin Atlantic with a week-long hotel stay, as well as an Antwerp diamond courtesy of the Belgium Pavilion.
Miss Expo started on August 2 and is running every Monday, Wednesday and Friday at 7pm at Porterhouse Brewing Company, Expo Area C.
Source:
shanghai.urbanatomy.com