GE's 'Visible You' body scan mimics your moves
2010. 11 August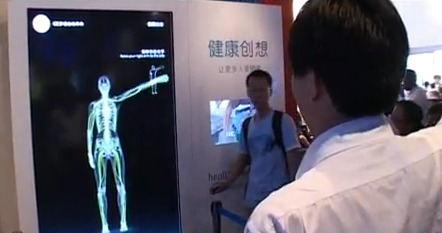 Ad agency BBDO and creative studio Tronic designed and modeled the GE installation, a body scanner for the active set. (Credit: Video screenshot by Leslie Katz/CNET)

by Leslie Katz
(news.cnet.com) Body scans may be controversial, but visitors to the 2010 World Expo in Shanghai seem to be having great fun stepping up to them--at least the ones being displayed by General Electric.
GE's "Visible You" installation offers digital simulations of the body's nerves, muscles, and cardiovascular systems--all while mimicking your every move in real time.
When a visitor steps up to the interactive booth in the USA Pavilion, the image on the life-size vertical display scales to his or her general height. It then mirrors participants' gestures (lifting arms and legs, jumping, running in place) in life-size, high-definition 3D.
What's the point?
Highlighting GE's body-scanning technology, which is part of its Healthymagination initiative. Also, who can deny that it's fun seeing your own aerobicizing X-ray staring back at you?
Secretary of State Hillary Clinton and TV host Mario Lopez are among the more famous Expo-goers who have hopped around in front of Visible You. The fair runs through October 31, so you if you manage to make it past the terrifying giant robo-baby that's greeting visitors, you might want to take a look.
Leslie Katz, senior editor of CNET's Crave, covers gadgets, games, and myriad other digital distractions. As a co-host of the recently retired CNET News Daily Podcast, she was sometimes known to channel Terry Gross and still uses her trained "podcast voice" to bully the speech recognition software on automated customer service lines.
E-mail Leslie
.
Source:
news.cnet.com