Perfect Timing
2010. 16 August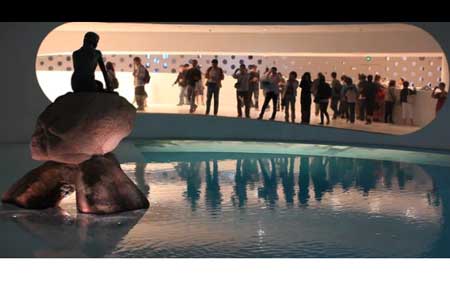 Danish pavilions at the Shanghai Expo as time-lapsed by Seppe Van Grieken. (Photo: Wang Zi)

by Vera Penêda
(globaltimes.cn) Seppe Van Grieken is a time shooter. A Getty Images photographer based in Beijing, Grieken, 26, freezes time and then he speeds it up turning his photos into time-lapse videos that give spectators a feeling of Georges Méliès 1902 movie A Trip to the Moon. Instead of showing the more familiar clouds moving or his curly hair budding, Grieken traveled to Shanghai and time-lapsed several Expo pavilions. His films are attracting online buzz, drawing attention to Grieken's "cin-emagic" potential.
Grieken arrives, skateboard under one arm and camera bag hanging on the other, energetic, covering all the angles of his story. Self-taught, he frames his plans and dreams during a quick stop in Beijing between a holiday in Belgium and a return to Shanghai's mega event for more futuristic photography.
Fooling time
"I went to Shanghai to cover the opening of the Expo on an assignment for Getty Images," recalls the photographer. "I was on a media tour when I met two Peruvian guys who stopped at the Expo to work on some photo projects." The Peruvians were doing time-lapse photography. "They used fish eye lenses and shot all angles from one point and then stitched the pictures together. The result is like an interactive globe that you can scroll as if you were navigating through a landscape," says Grieken.
The Peruvians told him of their idea to sell the pieces to pay for their travels. "I thought time-lapse would be perfect to portray the massive architecture and crowd atmosphere at the Expo, and that it was a brilliant idea to sell it like they were doing," says Grieken, who had already been working on a time-lapse piece shot in Beijing.
Fast paced, throngs of people whirling around the exhibits, with short moments of stillness, Grieken's pieces allow a lightning-speed Expo visit, without the need to set foot in the place. He explains the imagery results from shooting several photos of the same viewpoint out over a period of time, at one picture a second. It's then edited and shown in a sequence at 24 pictures per second. The disparity between each picture is very slight and when shown at normal speed, time seems to be moving faster and thus lapsing.
Armed with a Canon 5DmkII, Grieken says; "I literally travel through the pavilion and capture its most interesting features from a steady camera angle that moves slowly. The software then runs all the images into video," each sequence consisting of about 300 images. Music plays a major role: "I used Wim Merten's music, a Belgium pianist, to bring out the best of the images. The structure of the music determined the editing; I used it to organize the images and set the pace and mood of the films."
Video test
Grieken started at the Danish pavilion. "It seemed the most challenging of all the buildings. I did some general time-lapses of the whole structure, then played with the idea of following the building's spiral structure, which is its main element." The UK and German pavilions followed and although the films are still for sale, Grieken is already working on a similar piece commissioned by the EU pavilion, and he has his eye on the Swiss next.
Grieken says he probably wouldn't have gotten into video if it weren't for his camera that combines photo and video. Wrapped in "an intense learning process to explore video from scratch," Grieken has surrendered to the possibilities of video. Specifically: "Time-lapse is a format that works best with a dramatic change and a strong rhythm but it can definitely go beyond traffic and clouds." He says it takes time and patience, and the tough conditions around the camera, such as the bustle and the heat, make shooting hard work. "You stand somewhere for 24 minutes and then end up using one minute or 10 seconds - usually takes longer because you can't predict what's going to happen. At the Expo, handling the crowd was a major challenge because the subject in frame was always moving."
Technological progress is pushing industries like fashion to shift to video. "The lines dividing these two media are getting more and more vague and photographers are constantly called up to video productions all the time. The quality of the moving image is improving so it's now easy to get stills from video and even HDR [high dynamic range] time-lapse footage."
Getting China
Grieken had always kept one eye on photography and another on China. "I did Sinology for five years at university. But my father is a journalist and I guess I took on his interest in photography since I was a kid." Grieken learnt about photography experimenting with an old camera and taking evening courses. "I wanted to pursue photography, but without losing the Chinese," he says. He came to Beijing last year on a scholarship to study photography at the Film Academy. Frustrated with low quality education and slow progress, he stopped attending class four months later.
He started assisting at the Getty Images commercial photo shoots when one of the photographers left. "It was luck I guess," to be in the right place at the right time. "I do news for Getty and cover a variety of topics ranging from politics to fashion in China," he says. "The first assignment I got was to go to Tiananmen Square in 2009 and take pictures. The agency wanted me to take photos of the square and the people but they told me 'Don't get into trouble'. I was just a student and didn't have a journalist card back then so I told security guards that I was doing a project on uniforms all over the world for the Film Academy," which they bought.
But "hard core photo journalism" isn't so much his thing. "Take political events like the National People's Congress. Everything is orchestrated and you stand next to another 700 photographers trying to get a shot with massive lenses from a 200 -meters-away balcony. I do it to make ends meet but it's not the ideal job."
"As a Sinologist, my ambition is to do a photo project on China to document its unique and rapid changes," he says. Line 4 was Grieken's first exhibition in Beijing in May last year at Café Zarah. It showcased a set of images captured underground in the tunnels of what would soon be the new flashy subway Line 4. "It was sort of photography meets mission impossible," he says. "There was such an amazing atmosphere down there."
Escaping the red-hatted supervisors, Grieken went underground to document the unknown faces and rapid progress of Beijing's transformation. "Workers were very friendly, constantly asking: 'who are you, why are you doing pictures of this? Come back when it's done, it's very ugly now.'"
Grieken hopes to restart his big China project next spring. Along the same lines as Line 4, "I'll document this era of so many challenges and changes in China through news photos that might be of value in years time," he says. "For now, I want to be here and witness China's transformation. I just want to ride this ride and see where it'll take me."
The videos can be seen at http://vimeo. com/videos, then search "Shanghai Expo Time-lapse Machine"
Source:
www.globaltimes.cn