Kung Fu Pavilion shows its chops
2010. 18 August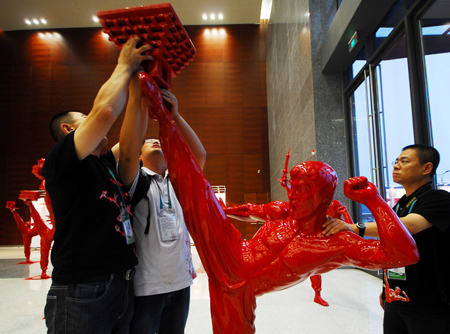 Finishing touches are made to the display of Bruce Lee statues at the Kung Fu Pavilion, which began its one-week run yesterday. Photo: CFP

by Duan Wuning
(life.globaltimes.cn) Foshan marked the opening of its China Kung Fu Pavilion at the World Expo 2010 in Shanghai yesterday, featuring kung fu elements and ceramic displays.
Situated in the Pavilion of Future in the Urban Best Practices Area, the pavilion will be open until August 23. It covers an area of 1,200 square meters and features 50 ceramic statues of Bruce Lee.
The Guangdong city of Foshan is known to the world as the hometown of the late martial artists Bruce Lee and Ip Man, as well as for its major industry of ceramics.
"We want to make use of international platforms such as the Expo and the Asian Games to promote martial arts to the world, which we hope can one day be an Olympic event," said Qiu Dailun, president of pavilion co-organizer 1506 Creative City.
Organizers of the pavilion will select a kung fu advocate through a talent competition, in which they will invite 1,506 visitors to the pavilion to strike a pose that they think best encapsulates kung fu. Pictures of the entrants will be posted on the China Kung Fu Wall inside the pavilion. Awards of up to 4,518 yuan ($664) will be given for the best poses.
They added that they are considering submitting the wall for a Guinness World Record which, at 20 meters long, four meters tall and carrying 1,506 pictures, they claim will be the largest kung fu display in the world.
Also on show are examples of the global use of Foshan ceramics.
Source:
life.globaltimes.cn