USA Pavilion brings Expo to Xintiandi
2010. 31 August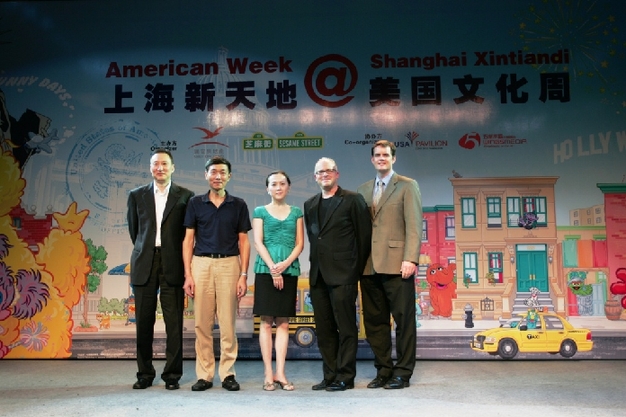 The USA Pavilion at World Expo 2010 brings to Xintiandi, Shanghai's historical, cultural and entertainment landmark, American Culture Week, which runs from August 23 to 29th.

(china.org.cn) Not even Shanghai's scorching heat wave can quell visitors' enthusiasm for the World Expo. On August 27, the USA Pavilion adds even more radiance to this historic event by bringing the Expo to Xintiandi's American Culture Week. This cultural feast will run at the city's downtown historical, cultural and entertainment landmark from August 23 to 29th.
USA Pavilion at the Expo 2010 Shanghai is dedicated to strengthening cultural exchanges and furthering friendship between the American and Chinese peoples. Part of this includes increasing local citizens' access to the talents of American artists, and giving them opportunities to experience the common values of optimism, innovation, and teamwork. For this reason, the USA Pavilion is adding its presence to the American Culture Week event outside the Expo Park at Xintiandi, Shanghai's most vibrant and populous cultural hub.
During American Culture Week, the USA Pavilion will bring its popular performance troupe, "Dance America!" to amaze the South Block of Xintiandi with authentic American dance-style. "Dance America!" tells the story of America through the decades using dance, a powerful art form in the United States and an iconic celebration of life which transcends all languages and cultures. The vibrant and vivid costumes transports the audience from modern-day America back to its dynamic past; It showcases a multitude of dance forms such as contemporary rhythmic movement, Hip-Hop, Vogueing, Disco, Latin, Ballroom, Jitterbug, and Tap. "Dance America!" is a fun, energetic performance that people of all ages can enjoy. The combinations of dance movements showcase American history, tradition and culture while the talented and passionate dance cast members reflect America's heart and soul.
The "Dance America!" cast was selected from among hundreds of candidates in Los Angeles, California. The final cast of 10 was selected from various USA cities including Miami, Los Angeles, Detroit, Columbus, and others. The producers and directors of "Dance America!" are both awards-winning, world-class dancing maestros who have rich experience in both performing and producing dynamic dance projects.
Moreover, the American Culture Week will bring refreshing performances and interactive experiences to children spending their summer holidays with Sesame Street, the world famous children's educational show.
Little Plum, Cookie Monster, Elmo, Big Bird, Puffing Pig and other popular characters in Sesame Street will all be present at this event. Children and others looking to interact with the TV superstars can use a "magic map" to follow their footprints in the South and North blocks of Xintiandi. In addition, there will be a wonderful performance full of funny expressions and body languages, which will grant the audience, both young and old, a chance to experience the joys of childhood amidst the hot weather.
Since its premier on October 10, 1969, Sesame Street has been grown up with over 100-million children. The highly regarded television program is watched by parents and children over 140 countries and regions, and has received a record 131 Emmy Awards. Sesame Street provides children with all kinds of basic knowledge, such as fundamental reading skills, arithmetic, alphabets, shapes and colors through performance. Its combination of education and entertainment, and of course its many cartoon characters, popularizes and contributes to the program's success among the children of the world.
At over 60,000 square feet (6,000 square meters), the USA Pavilion is one of the largest national pavilions at the Expo. With the theme of "Rising to the Challenge," the United States presence showcases American culture, values, innovation, and business, in one of China's most dynamic cities, while celebrating the friendship and cooperation between the United States, China, and the rest of the world.
Source:
www.china.org.cn