Take the Expo home
2010. 21 September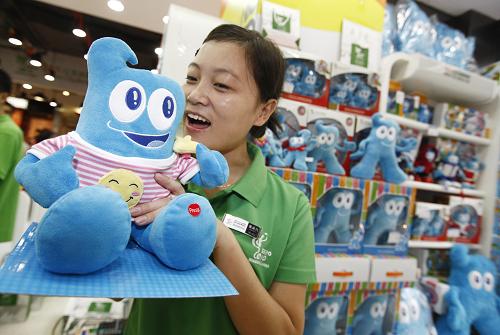 Haibao toys are for sale at a licensed products store of the Expo 2010.

by He Jing
(china.org.cn) If a trip to the Expo Park is like a banquet, replete with dishes (or pavilions) from every corner of the world, then the souvenirs one can purchase there are like dessert. Knick-knacks and memorabilia are a fantastic way to top off a visit to the Shanghai World Expo.

For most visitors, enjoying a shopping spree at one of the Expo Park's many souvenir shops has become an integral part of the Expo experience, in addition to checking out the numerous pavilions and performances featured there. According to the Shanghai Expo Licensed Product Department, about 15,000 different products are available for purchase at the Expo Park. These items fall into 29 categories, including garments, toys, accessories and personal-care products.
It would not be an overstatement to say that you can find nearly any kind of souvenir you might want at the park. Rare and hard-to-find items such as rosewood combs and crystal handicrafts have proved to be particularly impressive to souvenir hunters.
Affordability is key
In an effort to meet the demands of visitors, affordability has been one of the top concerns for developers of Expo-licensed products. Reasonable prices ensure that no shopper will leave the park empty-handed. According to the licensed product department, about 83 percent of the items on sale are priced at or below 500 yuan (about $74); in comparison, only 5 percent of the items are priced at or above 5,000 yuan (about $735).
The flagship store near the Expo Axis in Zone B of the Expo Park boasts the richest variety of licensed products. Shoppers can find the most expensive souvenir gold bar and the cheapest Haibao balloon here.
As for young visitors, Expo badges are their favorite, said Yan Liang, operation director of the flagship store.
Expo badges are priced comparatively low and some of them are of limited edition – a reason they are especially favored, said Yan.
What's more, novel marketing strategies have been used to promote badge sales.
For example, to celebrate the Chinese Valentine's Day, the Qixi Festival that fell on August 16 this year, the Expo licensed products shops allocated special area for Qixi souvenir badges.
Outside the Expo
Expo souvenirs have also proved to be quite popular in stores outside the Expo Park. According to Xin, over 8,500 stores selling World Expo-licensed products have opened in China. By the end of July, the total sales volume of Expo products had hit 23.5 billion yuan (about $3.5 billion).
Starting from the middle of October last year, the expansion of Expo-licensed stores sped up in China. As many as 5,000 stores are currently operating in Shanghai with the rest scattered among China's other provinces, autonomous regions and municipalities, according to the licensed product department.
Even in the remote city of Lhasa, the capital of southwest China's Tibet Autonomous Region, tourists can find two stores selling Expo souvenirs made of precious metals such as gold and silver.
At the same time, 15 foreign-funded retail chains, including Carrefour, Wal-Mart, RT-Mart and Auchan have signed contracts with Expo organizers to become licensed retailers of Expo souvenirs. Currently, these chains have about 200 stores selling Expo-licensed products in China.
Shanghai, Zhejiang, Jiangsu and Beijing have seen the highest sales of Expo products, said Xin. The upcoming end of the Expo means that the next two months will probably see a boom in sales in these cities and elsewhere. "We are confident that sales will increase dramatically in September and October," said Xin.
New designs for previously launched souvenirs will start to enter the market during this time. Most of them will be marketed as commemorative gifts, said Xin. However, Expo organizers and product supply chains will try to avoid the massive clearance sales that followed the Beijing Olympics. "The post-Expo sales scheme is still under discussion," said Xin.
Sham souvenirs?
The Haibaos standing proudly on store shelves in licensed franchise stores have some less-than-legal counterparts, however. Counterfeit Haibao dolls and other merchandise have been found in the hands of vendors and peddlers on the streets of Shanghai and other Chinese cities.
Expo authorities have reminded visitors that genuine Haibao merchandise and other items have security labels in their price tags to distinguish them from fakes; however, this hasn't stopped some would-be pirates from peddling their counterfeit wares.
Since the second half of 2009, Shanghai authorities have conducted a special campaign to guard Expo-related intellectual property rights, targeting areas such as Nanjing Road and the Oriental Pearl Tower, according to Lu Guoqiang, director of the Shanghai Intellectual Property Administration.
The campaign seems to be working. Three men who produced and sold fake Haibao plush toys worth 450,000 yuan (about $66,400) were sentenced by a Shanghai court in July to one to four years in jail. In August, authorities confiscated and destroyed about 100,000 yuan (about $14,760) worth of unlicensed Expo products; these included furry toys, mobile phone accessories and many other products.
Fortunately, the rash of piracy hasn't hampered sales of licensed products. Over 20 billion yuan (nearly $3 billion) worth of authorized Expo products have been sold to date, meeting sales targets and setting a new record in China for merchandise earnings from a large-scale international event.
Source:
www.china.org.cn