Privatizing Public Diplomacy:
2010. 29 September
Clinton's Shanghai Expo Sustainability Pledge Goes Awry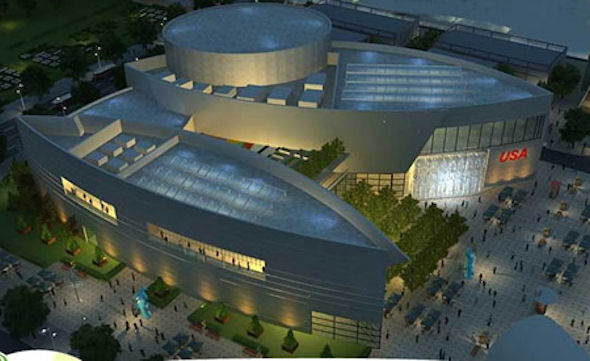 by Bob Jacobson
(huffingtonpost.com) I've written before in The Huffington Post about the State Department's plan to privatize American public diplomacy, prototyping the approach using the multi-multi-million dollar USA Pavilion at the Shanghai World Expo.
It goes like this, 1-2-3:
(1) Create a bogus nonprofit corporation -- in this case, called Shanghai Expo 2010, Inc. -- to substitute for the Government as caretaker of the public-diplomacy function.
(2) Compel the IRS to give the private company tax exempt status, which by definition it does not deserve.
(3) Raise corporate money for the private company, so that State can avoid going to Congress to get funding for the function -- in this case, planning, constructing, and operating the USA Pavilion.
An agency bagman, the Global Partnership Initiative, has been created to formalize and apply the process on a continuing basis. In our high-stakes world, its opportunities for political horse-trading are boundless.
Unfortunately, Secretary Clinton herself became implicated in this scheme -- ironically, a racket of the State Department's own device -- when she made on-the-job fundraising calls to 60-plus American and Chinese CEOs, raising an estimated $70 million in behalf of the wholly private Shanghai Expo 2010, Inc. This was well after Shanghai Expo 2010, Inc.'s corporate charter had been suspended by the District of Columbia, where it was issued for failure to file tax returns; and well before the company improperly received tax-exempt status. The matter is now pending with investigative agencies.
Since my earlier articles, the mainstream press has confirmed this story. But here's a new twist: A press release issued by Shanghai Expo 2010, Inc. and the Alcoa Foundation reports that carbon offsets for more than 8,000 tons of CO2 have been purchased to make the USA Pavilion "carbon neutral." On reading this, I was ROFL.
The USA Pavilion schemers -- the State Department, Shanghai Expo 2010, Inc., and the Shanghai Consulate -- have always been uneasy about their shopping mall-styled pavilion's high-carbon footprint, an embarrassment at an Expo dedicated to urban sustainability. The pavilion lost most of its eco-friendly features when in 2008, in an attempt to rescue the flailing effort, the Shanghai Consulate paid a Chinese group to simplify the pavilion's design and hence cheapen its cost. All that remained were a few square yards of rooftop plantings, an efficient water heater, and token solar panels.
Once the white elephant was built and shown to have the carbon profile of a large industrial complex complete (not counting the US-hosted fast-food court next door), something had to be done to restore the USA's "sustainability" creds. Otherwise, nothing about the USA Pavilion would be in keeping with the Expo's theme, "Better City, Better Life" -- a condition frequently noted in an increasingly critical press.
But their hasty patch to make the USA Pavilion "compliant" has only made things worse.
The USA Pavilion and Alcoa Foundation have jointly announced that the Pavilion has reached carbon equilibrium covering the entire six-month duration of the Shanghai Expo, including the production of key building materials used in the Pavilion. A total of 8,250 tons of carbon offset credits were purchased from three selected Gold Standard-certified projects in China to offset the Pavilion's carbon footprint.

As the first national pavilion committed to be carbon neutral during the entire six months, the USA Pavilion fulfills a pledge to be a green pavilion, a commitment U.S. Secretary of State Hillary Rodham Clinton made on May 22 during her visit to the Expo.

Alcoa Foundation has partnered with the Pavilion on its environmental sustainability strategy to be carbon-neutral throughout the event. ICF International, a leading US climate change, energy and environment consultancy, was designated to conduct an independent, thorough, verifiable carbon footprint study to quantify GHG emissions.

All is not environmentally hunky-dory with this picture. In terms of sustainability and climate-change, the projects supposed to offset the USA Pavilion's carbon contamination are problematic, to say the least. So are the players involved in their choice and investment.
First, the VCS carbon-offset metric used to select these projects is voluntary and industry-created. The World Wildlife Foundation, hardly a radical actor, says VCS "fails to guarantee climate benefits and promote sustainable development. The standard lacks credibility." The Gold Standard, also applied, is a carbon-sale and -trading scheme administered by a firm in Switzerland, that rewards corporate carbon-trading projects a gold star they can flaunt in public. It comes for a fee.
Second, ICF International, which calculated the USA Pavilion's carbon profile -- without independent review -- and put this deal together, is identified in the Alcoa press release as a "change, energy and environment consultancy." Barely. ICF is primarily a multibillion-dollar Beltway-based defense, construction, and energy industry contractor. It states on its website, "To ensure a sustainable future, there is a great need to understand and manage greenhouse gas (GHG) emissions in ways that promote economic growth." You know where its sympathies lie. In the "green zone," ICF serves primarily the climate-change finance industry that exploits the climate crisis for its own financial well-being.
The three projects in which ICF invested in to get the USA Pavilion off the hook are themselves highly problematic Two of the three are slow-motion ecological trainwrecks.

(Another question: why give China all the benefits of developing its green technology by buying offsets there? Why not invest them at home, in American technology? The answer's simple: once again, Shanghai Expo 2010, Inc., is currying favor with China, this time with Alcoa's money. It's the inevitable product of privatized public diplomacy.)
In that context, the comments of US Expo Commissioner General Jose Villarreal -- who is supposed to render an objective analysis of the USA Pavilion to the Congress when the debacle is over -- are laughable. From the same press release:
Said Villarreal, "I am proud the USA Pavilion will be supporting the Expo's theme, 'Better City, Better Life', through the purchase of credits from carbon offset projects in China which fulfills our commitment to be carbon neutral for the six-month duration of Expo 2010 Shanghai. The USA Pavilion is pleased to put into action our message of sustainability and healthy community-building by supporting three Gold Standard-certified projects across China to offset our carbon footprint. I would like to thank Alcoa Foundation for its generous contribution in helping the USA Pavilion be the best possible Expo citizen and become the first national pavilion to commit to carbon neutrality at Expo 2010 Shanghai."
Such disingenuousness deserves a reward, maybe even a real diplomatic posting. To Gansu, perhaps?
As the Expo nears completion, it's difficult to point to a single aspect of the USA Pavilion that has genuinely and honestly kept to the Expo's sustainability theme. Not a single one. And with each USA Pavilion faux pas, Clinton's argument for privatizing public diplomacy grows weaker.
The bottom line: turning the State Department's functions over to Beltway bandits and Hollywood hucksters is not in the interest of the American people. And never will be.
* * *
Comments? Write to me at Bob Jacobson . Thanks.
Source:
www.huffingtonpost.com