China to build 7 wind power bases by 2020
2009. 1 July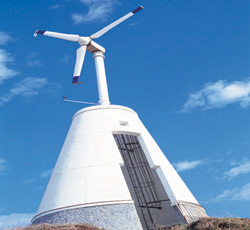 (chinaknowledge.com) China plans to set up seven wind power bases each with a minimum capacity of 10 gigawatts (GW) by 2020 to enable broader use of clean energy, said Shi Pengfei, vice-president of the Chinese Wind Energy Association.
Upon completion in 2020, the capacity of the seven bases will amount to 120 GW. The country's total power capacity is expected to reach 1,500 GW.
The seven bases, which involve a total investment of RMB 1 trillion, will be located in Jiuquan in Gansu Province, Hami in Xinjiang Uygur Autonomous Region, Hebei Province, western Jilin Province, eastern Inner Mongolia, western Inner Mongolia and Jiangsu Province.
At the beginning of May, the National Development and Reform Commission (NDRC) approved the plan for a wind power plant in Jiuquan. The plant will have a capacity of 3.8 million kW.
Last year, China added 12 million kW of installed wind power capacity, ranking the second in the world.

Copyright © 2009
www.chinaknowledge.com
Send feedback or comments to:
news@chinaknowledge.com