Sculptures take the spotlight
2009. 1 July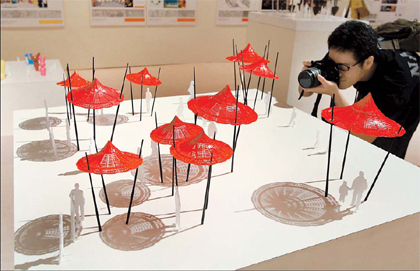 by Bob Yang
(shanghaidaily.com) CITY residents have been invited to select about 60 sculptures from around the world to be exhibited at the 2010 Shanghai World Expo.

An exhibition will begin on Friday at the Shanghai Sculpture Space of about 250 sculptures created for the Expo by artists from more than 20 countries and regions.
People can visit the exhibition for free at 570 Huaihai Road W. until the end of July and vote for their favorite works. Most of the works will be displayed via models and pictures.

The selected sculptures will be on display for the duration of the Expo at the main entrance to the site, on both sides of the Huangpu River, along the Expo Boulevard and at the former Jiangnan Shipyard on the Puxi site.

The sculptures to be exhibited on the former shipyard aim to highlight China's early industry, said Yang Jinsong, Professor of the Comprehensive Art Department of the China Academy of Art.

Designers interviewed many retired workers from the shipyards before making sculptures that portray the spirit of the country's earliest industry, Yang said.

The century-old shipyard will be turned into a 114,000-square-meter Youth Square during the Expo.

Six sculptures will be chosen to be displayed in the Youth Square.

Sixty-two works from Europe, South America and Africa will be displayed at the exhibition for the Expo Boulevard.

About 40 would be picked, including a dozen from Chinese artists, said Jean-Gabriel Mitterrand, president of JGM Gallery, which is in charge of selecting the sculptures for the boulevard.


Source:
www.shanghaidaily.com