HK pavilion foundations laid in Shanghai
2009. 2 July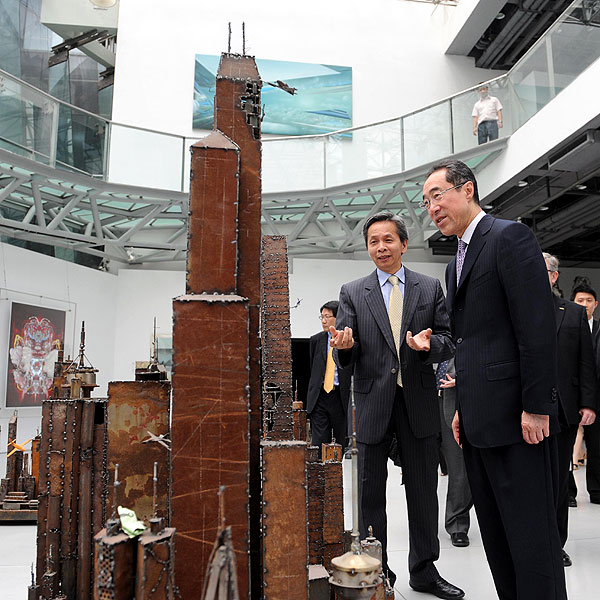 (news.gov.hk) The foundations of the Hong Kong Pavilion at World Exposition 2010 Shanghai China have been completed three days ahead of the 300-day countdown to the expo's opening.

At the foundation-laying ceremony today Chief Secretary Henry Tang said Hong Kong's participation in the expo has entered a new phase.
To showcase the Hong Kong - A City with Unlimited Potential theme, the pavilion will highlight the city's unique characteristics, creativity and connectivity with the Mainland during the expo from May 1 to October 31 next year.
The three-level pavilion is in front of the China Pavilion on a 600-square-metre site with an exhibition area of 800 square metres. It will have a sleek and contemporary look, with the middle level mostly transparent, symbolising the infinite imagination and creativity of Hong Kong and its people.
Hong Kong will take part in the Expo Shanghai Online project by constructing a virtual pavilion on the Internet.
Business meetings
Today Mr Tang also met Shanghai Municipal Committee Party Secretary Yu Zhengsheng and Shanghai Mayor Han Zheng to discuss further co-operation of the two cities, such as in finance and tourism.
Noting Hong Kong expertise can help upgrade the management of Shanghai Hongqiao Airport, Mr Tang said art and culture will also be a major co-operation area in future.
He added Shanghai's experience in developing its museums and art centres can be a good reference for the West Kowloon Cultural District development.
Source:
news.gov.hk