Smash hit of Germany Pavilion
2009. 9 July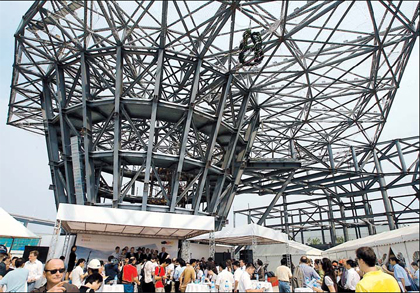 (english.eastday.com) Wine glasses were smashed against its steel structure to wish the Germany Pavilion good luck for the Shanghai World Expo yesterday.

A dozen German Expo organizers made a toast to the pavilion's success and then threw their glasses against the steel frame - a German custom that is believed to bring good luck to all those who enter the pavilion during the 2010 event.
"Let's admire the beautiful structure and wish the construction goes smoothly," the German Commissioner General Dietmar Schmitz said.
The Expo team brought the tradition to the Expo to wish all the Shanghai Expo officials and Expo visitors good luck, said Albrecht von der Heyden, German Consul General.
There was a sombre moment during the ceremony when a minute's silence was observed for one of the architects who had been involved in the project. He had died in a car accident in Germany several days ago.
The 6,000-square-meter structure will be Germany's largest at any Expo and will comprise three exhibition areas which will showcase German urban life and how the country's design and products can help solve urbanization problems.
The German government is investing 30 million euros (US$38.10 million) in the pavilion and the total budget for the Shanghai event is about 50 million euros, said Schmitz.
The theme of the pavilion is "Balancity." It will demonstrate the importance of balance between modernization and preservation, innovation and tradition, community and the individual, work and leisure, and between globalization and national identity.
Pavilion architect Lennart Wiechell said the highlight of the pavilion will be a cone-shaped structure housing a revolving metal sphere, 3 meters in diameter and covered with 30,000 LEDs, which will be activated by the noise and movement of spectators.