Never can say goodbye: Jackson to live on in China
2009. 10 July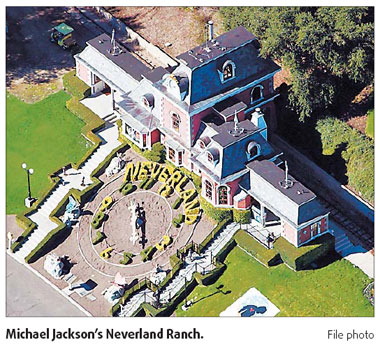 (english.rednet.cn) Michael Jackson's legion of Chinese fans won't need to fly to California for a glimpse of the Neverland Ranch, the pop icon's former home.

  Shanghai may be their destination after the completion of an Asian Neverland.

  Although much smaller in scale - only 1/17 of the 2,800-acre property in southern California's Santa Barbara County

- the development is set to offer "an alternative pilgrimage spot" for the pop king's fans.

  "Michael's contribution to the pop music world is unparalleled. By building a Neverland here in China, we want to pay tribute to him and at the same time offer the Chinese people an outlet for expressing their love toward him," said businessman Qiu Xuefan, director of the Wenzhou Chamber of Commerce in Shanghai, who is one of the investors in the 100-million-yuan ($14 million) project.

  The announcement comes amid emotional public memorials to the King of Pop in mainland China after his sudden death last month in Los Angeles.

  Thousands of Chinese fans have wept and mourned their idol, emotions not often seen in public.

  Wu Pei, spokeswoman for the project, said the Chinese version of the ranch would be located on Chongming Island, off the eastern coast of Shanghai.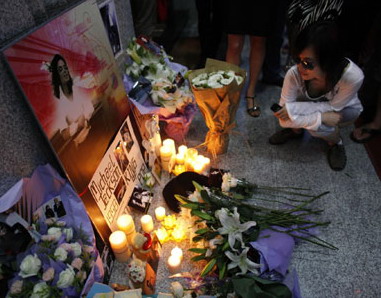 A fan shows her respect at a memorial for Michael Jackson outside a cafe in downtown Shanghai June 27, 2009. [Agencies]
  It would be very much like the original one, with some of the possessions of the superstar on display.
  But designers would also add Chinese characteristics to have it blend in with the local environment, she said.
  Wu also said talks with the local government were going smoothly, and that investors would like to see the project completed before the 2010 Shanghai World Expo.
  Related readings:
LA to foot $1.4 million-bill for Jackson's memorial
Saying good-bye to Michael Jackson
Doctor: 'Jackson saw face as piece of art'
Michael Jackson's final resting place a mystery
Chinese fans mourn Michael Jackson
  Chongming officials could not be reached for comment Thursday. But local media quoted a township governor as saying the first phase of construction would be completed within a year.
  The second and third phases, Wu said, would include a ranch and a premium club.
  But would Jackson's Asian Neverland be popular in this country? Maybe not, some said.
  Wei Wei, deputy director of Michael Jackson's Chinese Fan Club, said that while he embraced the idea of a pilgrimage site for the pop star, he doubted that there was enough commercial interest.
  "If the purpose is simply to pay tribute to Michael, I would suggest the investors open it for free, just as Michael did for the children. Otherwise, they are just making money from it," he said.
Source:
english.rednet.cn