French pavilion to house historic art at Shanghai Expo
2009. 15 July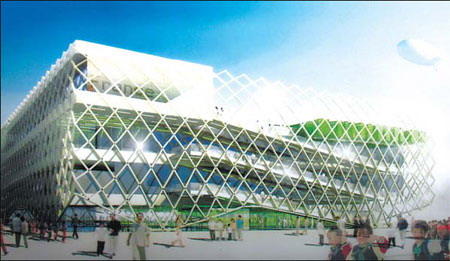 by Wang Zhenghua
(chinadaily.com.cn) The French government will send for the first time historic artwork from pioneers such as Auguste Rodin and Vincent Van Gogh to China for the 2010 Shanghai Expo.

But whether or not French officials can convince expo organizers not to demolish the innovative pavilion that will display the pieces remains to be seen.

The pavilion, dubbed "the Sensual City", will showcase not only artwork but the sights, smells, and sounds of France, said Franck Serrano, director of the French Pavilion. A latticed structure forms the faade of the 6,000 sq m building, which will have a roof garden and a large pond built underneath.

Historic pieces include Jean-Francois Millet's The Angelus, Edouard Manet's The Balcony, Paul Cezanne's Woman with Coffee Pot, The Age of Bronze sculpture created by Auguste Rodin, Vincent Van Gogh's The Dance Hall in Arles and Paul Gauguin's The Bananas, among others.

The artwork comes from collections at the Musee d'Orsay in Paris.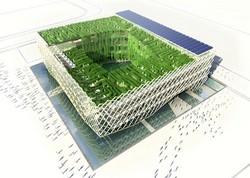 "The 2010 Shanghai World Expo is one of the most significant events in the 21st century and an opportunity for the whole world," Serrano said. He added that the French Pavilion will be a gift to China akin to France's gift of the Statue of Liberty to the US in 1886.
But French officials are still trying to convince Chinese organizers to preserve the pavilion after the 184-day expo. Except for four permanent structures of China pavilion and a central boulevard, all foreign pavilions and exhibition halls are scheduled to be demolished post-expo.
France is spending 50 million euros on the Shanghai exhibition, a hefty commitment that signals that Sino-French relations are getting back on track. The relationship was put to the test over so-called "human rights issues" in Tibet during last year's Beijing Olympics.
But the "Olympics is not about politics; neither is the expo," Serrano said.
"The Olympics has its competition in sports, while the expo is all about open communication The expo is a joyful, peaceful and environmentally friendly event," he said.
The French Pavilion prepares to offer grand wedding ceremonies for 2,010 couples during the six-month event. Newlyweds will tie the knot inside classical French-style gardens.
A seven-year-old cat named "Leon" has been selected as the mascot of French Pavilion.
Source:
www.chinadaily.com.cn