Something fresh in Dutch design
2009. 18 July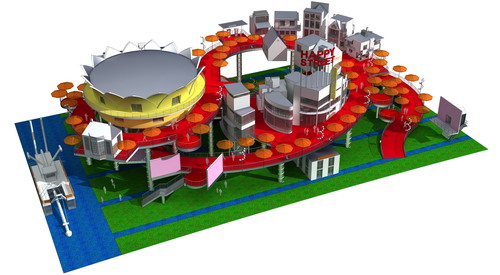 by Yang Jian
(shanghaidaily.com) The Netherlands Pavilion will likely stir curiosity among World Expo 2010 visitors with its "inaccessible" exhibit. Yang Jian gives a sneak preview.

Many people know Holland as the home of Philips, Johan Cruyff, tulips, wooden shoes and windmills. At the upcoming Shanghai World Expo, the European country will demonstrate it has far more to offer.
The national pavilion of the Netherlands at Expo 2010 will be built on stilts, with ups and downs, twists and turns -- a happy change from regular "straight" urban design.

The Netherlands Pavilion design, known as "Happy Street," is about curves and creativity. It will be the only pavilion at Expo 2010 to be "inaccessible" -- visitors will be invited to just walk around the and have a panoramic view of the whole exhibition.

Twenty-six small elevated houses will line the main pedestrian way that forms the shape of the number 8, a lucky number in China suggesting fortune. This will make for an "open" pavilion and reflect the country's open-minded nature.

Inaccessible houses

The houses will present exhibitions exploring themes such as energy, water, space and many aspects of urban issues. Some might show the daily life of Dutch people with a real family living inside.

Visitors will go up and down along the 400-meter pedestrian way with houses of different sizes on either side, just like walking along a path in a Dutch city.

Visitors will enjoy the 26 exhibits by looking through the windows of the houses.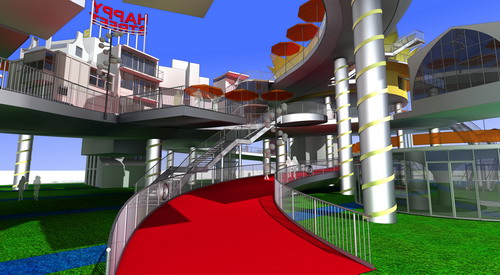 The special design will arouse curiosity. When they finish at one house, they cannot wait to check the next, said Walter van Weelden, Holland's commissioner general for the Expo.

Perhaps the most interesting house will be the one at the top of the pavilion. It will host a small water-purification station and visitors are able to sample the purified water, Weelden said.

Each window will lead to a small world and a full surprise, he said.

It will take 20 to 30 minutes to finish the "happy tour."

Dutch cuisine

A Dutch restaurant will be built on stilts beneath the pavilion.

Some of the dishes will include hutspot, a dish of boiled mashed potatoes, carrots and onions; rookworst, a Dutch sausage; and snert, Dutch pea soup.

To have a traditional Dutch meal after a fantastic journey and to chat with friends over a cup of coffee, that is the comfortable life in the Netherlands, Weelden said.

The philosophy of Dutch design is to create something different.

"Straight lines are somewhat dull and every line resembles each other. It is just 'the shortest one' between two dots, but curving lines are different. If you draw a curving line between two dots, every line could be unique," the design statement reads.

This is the idea behind the US$29.4-million pavilion. The Netherlands, with 16 million people in 41,000 square kilometers, is organized and efficient -- a straight-line nation -- but it also is a nation of curves, individuality and creativity.

For those wishing to see the famous windmills, don't worry, they will be there.

And you surely will find organic tulips, traffic friendly canals, and wooden shoes. These traditional symbols of the Netherlands will be exhibited with new twists, Weelden said.

Dutch organizers hope to attract five to 10 percent of the 70 million visitors expected at the Shanghai Expo, which means about 2,400 visitors will walk down Happy Street per hour.

Dutch Prime Minister Jan Peter Balkenende said he had full confidence that the pavilion could attract many visitors because "every one would like to walk around the pavilion when they see it." Happy Street Highlight: 26 small houses that only allow visitors to watch through windows What to see?

Twenty-six different elevated houses will present exhibitions exploring themes such as energy, water, space and many other urban issues. Some may even show the daily life of Dutch people with a real family living inside.



Source:
www.shanghaidaily.com