The U.S. Pavilion
2009. 22 July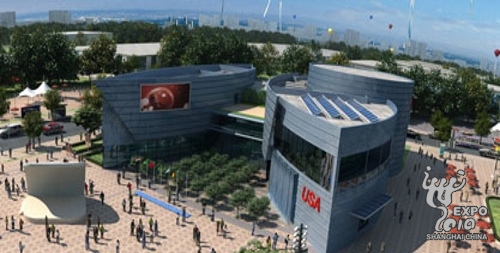 The 2010 World Exposition in Shanghai will be the first registered one in a developing country. Officially known as "Expo Shanghai 2010," it will last 184 days and provide China an opportunity to show off its remarkable economic growth. The expo will also give foreign nations and companies a chance to further develop business partnerships with China and Chinese companies. This is the second in an ongoing series that will look at the upcoming expo, from country pavilions to trade development. In this article, we take a look at the U.S. Pavilion.

by Lauren Hart
(china-briefing.com) Just last month, there was speculation that the United States might not be able to participate at the World Expo 2010 because of lack of funds. It was only on July 10 that the U.S. spot in the event was confirmed when it formally signed a participation agreement.
Last Friday, U.S. Secretary of Commerce Gary Locke attended the groundbreaking ceremony of the U.S. Pavilion and delivered remarks underscoring the crucial relationship between the United States and China, especially in shared global challenges like energy efficiency and climate change.
"The exchange of ideas among participants at the Expo will help generations to come in taking better care of our planet," Secretary Locke said during the groundbreaking.
The American Chamber of Commerce in Shanghai and the U.S.-China Business Council co-sponsored last Friday's breakfast featuring Secretary Locke at the Ritz-Carlton Portman Hotel. The event was for invited guests only, with around 300 people in attendance.
Breakfast began at 7:30 a.m., with remarks by the AmCham president, the president of Cargill, a U.S. Pavilion sponsor, and a more detailed speech delivered by Secretary Locke following shortly after.
After breakfast, around 100 persons including government officials and U.S. Pavilion committee members and sponsors proceeded to the site for the groundbreaking.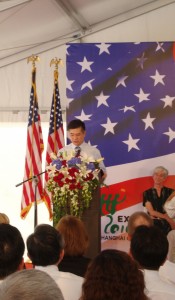 Secretary Locke, U.S. Commissioner General of the United States Exhibition to World Expo 2010, Jose H. Villarreal, and others spoke about the achievement of this day and thanked the sponsoring companies for their support.
"In 288 days we will open our doors to a magnificent pavilion showcasing the best of America, including our innovative technologies, creativity, and advancements in health, the environment, culture and the arts," said Commissioner General Villarreal at the groundbreaking.
"Our objective is both to impart and to take away knowledge that will enable us collectively to create better and stronger cities for better and healthier living," Villarreal added.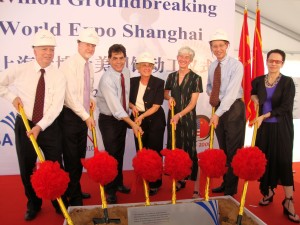 The U.S. Pavilion will be 60,000 square feet large when completed, making it one of the largest pavilions at the World Expo 2010. The design concept will focus on four thematic pillars - Sustainability, Teamwork, Health, and the Chinese Community in America - all of which nicely fit the Expo theme "Better City, Better Life."
U.S. Secretary of State Hillary Clinton said in a prepared statement: "Our national pavilion will showcase American business and technology, as well as cultures and values to foster stronger friendship between the American and Chinese people as it also demonstrates America's commitment to a forward-looking, positive relationship with China."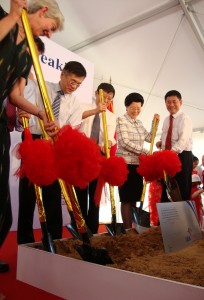 Attendance to the U.S. Pavilion is projected to be between 5 to 6 million people, with more than 80 percent between the ages of 18-45. Close to 80 percent of all U.S. Pavilion visitors will attend with their families, and Chinese visitors to the site are projected to be those earning more than RMB40,000 annually.
The U.S. Pavilion will cost US$61 million for construction, operations and post-Expo demolition. "We've literally rolled up our sleeves and we're ready to get to work," said Commissioner General Villarreal at last Friday's groundbreaking. Now that the ground at the site has been broken, construction will commence and is planned to wrap up before the Expo begins and guests across the globe arrive.
The non-profit organization, Shanghai Expo 2010, Inc. was established to facilitate the design, fund-raising and the operational activities of the pavilion since the U.S. Department of State is prohibited by federal law from spending appropriated funds for expositions.
The organization is charged with raising funds and is co-chaired by Ellen R. Eliasoph and Nicholas S. Winslow, who together bring decades of expo and theme park experience.
Ambassador Frank Lavin, former Under Secretary for International Trade at the U.S. Department of Commerce, heads the U.S. Pavilion Steering Committee. The U.S. Commissioner General of the United States Exhibition to World Expo 2010 Shanghai, China is Jose H. Villarreal, an attorney from San Antonio, Texas.
While sponsorships and donation pledges continue to be pursued and secured, some prominent companies have already pledged their support.
The first was none other than 3M China, renowned for its commitment to excellence in developing and designing sustainable products. 3M China Managing Director Kenneth Yu in a statement: "I believe that with 3M's diversified technologies and dedicated team, we will be a trusted partner of the U.S. Pavilion organization for the building of a 'Green & Innovative' U.S. Pavilion."
PepsiCo also joined as a global partner and is the exclusive non-alcoholic beverage and snack food partner. They will contribute US$5 million, joining the highest tier of the U.S. National Pavilion sponsors.
Cargill, founded in 1865, is an international producer and marketer of food, agricultural, financial and industrial products and services. Cargill is inviting rural Chinese children to the Expo to "help promote a 'Better Life' not only in cities, but also in the countryside with our active engagement in rural areas," Cargill China President Norwell Coquillard said in a statement.
The Committee of 100 is an interesting and non-traditional sponsor. The group, C-100, is a national non-partisan organization composed of American citizens of Chinese descent. They have joined as a strategic partner, and are assisting with fund-raising and the 'Success of the Chinese in America' exhibit within the pavilion.
Intel Semiconductor Limited, another sponsor, has a strategy "to grow together with China," and they have certainly done just that. Since entering China in 1985, Intel has become one of the largest foreign investors in China with total committed investment reaching US$4.5 billion. Other sponsors include: General Electric, Wal-Mart, Golden Eagle International Group, Yum! Brands, Dell, Microsoft, Boeing, Panasonic, Corning, NYSE Euronext, The Executive Center Hong Kong, and the USA-China Education Science & Culture Association.
Companies interested in sponsoring the pavilion can contact Norm Elder in the United States here or Felix Wong in Shanghai here.
Source:
www.china-briefing.com