Name China pavilion for Expo 2010
2009. 23 July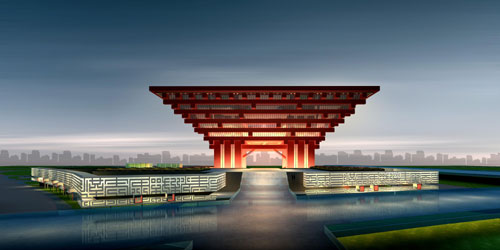 Contributed by Xiang Lin
Translated by Chen Shuling
(english.eastday.com) The most exciting thing in Expo Area may be the pavilions of all the countries.

There're Britain pavilion which is full of "tentacle" on the surface, France pavilion which looks like a garden, Japan pavilion of sci-fi-style, Spain pavilion like a basket, and so on. But undoubtedly, it's China pavilion that attracts most Chinese people. Now, there's a chance for us to grow up together with China pavilion to give a beautiful name to it.                                      Chinese Version >>
If a beautiful building had a beautiful name, it would be remembered easily. Moreover, people would feel close to it, such as Beijing National Stadium called The Bird's Nest, and National Aquatics Centre called The Water Cube. Then, what's the name for China pavilion, the core construction in Expo Area?
There are a thousand Hamlets in a thousand people's eyes. Many people have already seen pictures of China pavilion by TV and Internet. Everyone has his own way to understand China pavilion, so the names people give are different. Some people call it Chinese Red Pavilion, as they think the red color of China pavilion is of great momentum and quite in fashion. Some people prefer Shining Star, because the pavilion looks like a kaleidoscope which is bright and dazzling. It's also called Corbel Bracket, as it looks like a huge corbel bracket, and as the corbel bracket is a unique building element in Chinese tradition, it can show Chinese culture adequately. Others call it Red Bowl or Ret Torch, which is quite simple, but vivid. And some people just call it Oriental Crown or World Granary. Although these names are in different styles, they all show people's wisdom.
Naming China pavilion is a procedure to enlarge the interaction and deepen the understanding. It cannot be denied that in some areas, because of the restriction of objective condition, people know little about Expo. Even if they knew it, they had few chances to take part in it. So, we should make more people deepen the sensible understanding of China pavilion and Expo, make them feel Expo and be close to Expo.
Naming China pavilion is also a procedure to collect people's ideas and wisdom. It's a response to the call made by Chairman Hu Jintao recently that we should use the resources of the whole country and collect the wisdom of the world, to make Shanghai Expo a successful Expo, a wonderful Expo, an unforgettable Expo. People's wisdom is countless. If everyone stretched his mind, it would be a continuous source and immeasurable wealth of intelligence. The two landmark buildings in Beijing Olympics, The Bird's Nest and The Water Cube, are also named by the wisdom of the masses.
With the participance of intelligent Chinese people and the help of smart netizens, China pavilion for Expo 2010 will certainly get a beautiful name, and Shanghai Expo will certainly become "a successful Expo, a wonderful Expo, an unforgettable Expo".
Source:
english.eastday.com