The heart and soul of Japan to be on display at Expo
2009. 24 July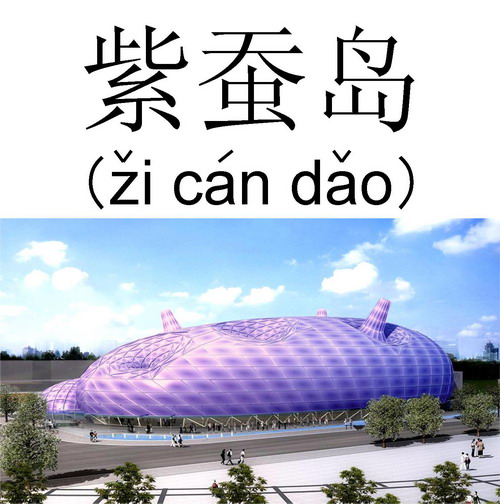 by Yang Jian
(shanghaidaily.com) The World Expo 2005 Aichi in Japan amazed the world with its intelligent robots, innovative performances and its "green" thinking.

Next year, at the Shanghai World Expo, the country that has hosted five World Expos aims to continue its glory on the Expo stage.

Along the Huangpu River, about 500 spectators sit in a traditional wooden theater,

enjoying a modern opera. Many robots walk among the spectators. They will welcome people and some will even lend a hand to seniors. Several robots will play violins. This will be the Japan Pavilion at the Shanghai Expo.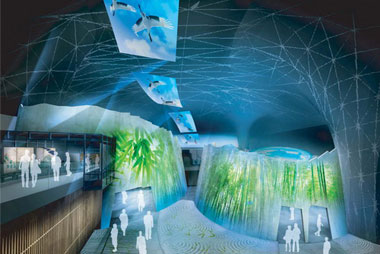 The Japan Pavilion has secured a 6,000-square-meter plot at the Expo site, neighboring the South Korea Pavilion and close to the China Pavilion. With a budget of 13 billion yen (US$132 million), the 24-meter-high pavilion is the largest and most costly the country has ever built for a World Expo.

The pavilion is a semi-circular structure, covered by a purple membrane material. Its facade is similar to China's National Aquatics Center, or Water Cube, in Beijing. Several antennae and caves make the pavilion a "breathing organism," which will express the harmony between the human heart and technology.

The pavilion has been dubbed "Purple Silkworm Island" by Chinese people.

Changing illumination and water spraying on the exterior surface will make the pavilion seem alive and as if it is breathing to those who walk close by, says Hiroshi Tsukamoto, commissioner general of the Japanese section of Expo 2010.

The pavilion will use solar energy collection batteries hidden in the double-layer membrane, and the cave will collect rainwater to spray on its exterior surface to keep temperatures cool.

Inside the pavilion, Japan will express the "harmony between the human heart and technology," its exhibition theme.

"Technology can contribute to a cleaner world and a better life, helping people find tranquillity and confidence," says Tsukamoto. "But technology should be guided by our love of the Earth, of all people and of our children."

The concept is an extension of the theme of Japan's Aichi Expo 2005, which was "Nature's Wisdom," and also an interpretation of the "Better City, Better Life" Shanghai Expo theme, he says.

Journey through time

The pavilion will be divided into past, present and future exhibits. People will experience a journey from ancient times into the future within a one-hour visit, says Yasuhito Harayama, senior official of Japan's Ministry of Economy, Trade and Industry.

At the "past zone," the friendship between China and Japan will be highlighted. Historic cases such as a Chinese envoy's visit to Japan in the Tang Dynasty (618-907 AD) and expertise such as Nishijin weaving will be showcased to highlight the cultural connections between the two countries.

Japan's modern energy saving and water purification technologies will be exhibited in the "present zone." The exhibition will focus on three topics: water source protection, global warming and the aging problem.

The "future zone" will feature a modern opera developed by both Chinese and Japanese directors. It will be the centerpiece of the pavilion.

The opera will tell the story of a rare bird that has avoided extinction in Japan with the help of China.

'Beautiful future'

The crested ibis was declared extinct in Japan in the 1970s. The Chinese government began giving some of its stock to Japan in the 1990s and the birds managed to re-establish themselves in Japan.

The opera will be easy to understand, with children its prime target audience, says opera creator Makoto Sato.

"I am trying to send a message to the next generation that we will provide a beautiful future," Sato says.

The production will involve some traditional Chinese opera such as Kunqu Opera, says Danny Yung, the Chinese co-director.

The Japanese Expo team will soon begin recruiting Chinese actors for the opera. High-tech robots may also be involved.



The 20-minute opera will be performed in the pavilion's 500-seat theater many times each day during the Expo, Sato says. Purple Silkworm IslandTheme: The harmony between the human heart and technology What to see?

An opera about a rare bird that is saved from extinction in Japan with the help of China will be performed in a traditional Japanese theater in the pavilion.

The statue of Monk Jianzhen, a Chinese monk who helped propagate Buddhism in Japan, may be exhibited in the pavilion.

Some traditional ceremonies will be performed both inside and outside the pavilion.

What to eat?

A restaurant inside the pavilion will sell Japanese food and snacks.

Want to have fun?

The smile of visitors will be recorded when they leave the pavilion. The happiest smile will be selected each month during the Expo.6,000 sq m

The 6,000-square-meter pavilion will be divided into past, present and future zones. It is close to the China Pavilion.3m visitors

The pavilion aims to attract 3 million visitors.13b yen

With a budget of 13 billion yen (US$132 million), the pavilion is the largest and most costly Japan has ever built for a World Expo.



Source:

www.shanghaidaily.com