Russia is to have its own pavilion
2009. 24 July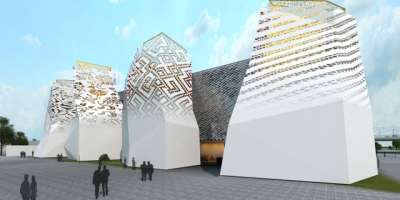 (en.rian.ru) Russia is to have its own pavilion at the Shanghai World Expo 2010 which is due to run from May 1 - October 31, 2010, a spokesman for the operator the All-Russia Exhibition Center said.

The central theme of Shanghai Expo 2010 in China's financial capital is Better City, Better Life. Russia is due to present its proposal for the pavilion on July 28 during a visit by a Russian delegation to Shanghai.
The spokesman said that the Russian pavilion at the Shanghai expo will represent innovation and the intellectual search to solve the complex tasks of the post-industrial world.

"Conceptually, the pavilion represents Russia as a country with unique experience and traditions in the creation and development of engineering and humanitarian technology. The main focus of the Russian display will be a combination of priority areas for Russia's development, including those inspired by urban life: energy security and efficiency, innovation in healthcare and social development, nuclear technology, space exploration and the development of communications," he said.

The design of the Russian pavilion will be based on three main elements: 12 white and golden towers, a "hovering" cube resting on the foundations of the twelve towers, and an internal installation.  

The towers will jut upwards to symbolize skyscrapers in fast-growing cities. The white and golden color of the towers represent historical images of Russian architecture and the towers will be designed to represent the different ethnic groups in Russia.

"External facing elements are mobile, creating vast spaces of a 'living façade' which will create an image of a giant being while reflecting the sky, towers, plants, and people. During the nighttime, special lighting will be used to create an even more breathtaking effect of a changing light-color-dynamic screen," the spokesman said.

He added that the Russian pavilion would contain a humanitarian zone where EXPO participants and visitors will be able to take part in a discussion on the meaning of a Better City, Better Life and on changing urban communities, and how to implement the idea of global harmony.

Visitors to the Russian pavilion will also be able to sample national cuisine at a local restaurant and buy a variety of souvenirs made by Russian craftsmen.
Source:
en.rian.ru