Exploring the soul of Qiang
2009. 7 August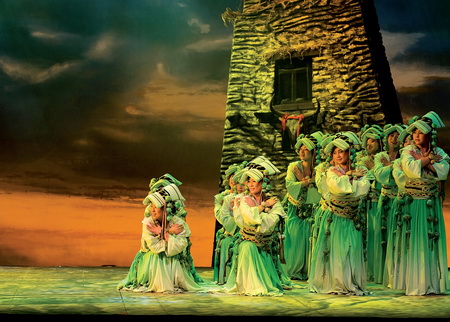 (news.xinhuanet.com) While the damages caused by natural disasters are irreparable, hope continues. Following the May 12 earthquake in Sichuan, the worst hit minority group, Qiang, is promoting their rich cultural heritage in a stage show in an attempt to move beyond the tragedy.
    Through folk songs, drama and dance, The Soul of Qiang captures the essence of the ethnic group that lost over 30,000 people to last year's quake, 10 percent of the minority's total population.
    The Soul of Qiang opened on May 12 marking the first anniversary of the disaster and it launched a national performance tour Wednesday with Beijing its first port of call.
    Wang Jingquan, artistic director of the show, is a key figures off the stage. Since 1982, he has devoted himself to collecting Qiang ethnic songs and researching music evolution in the Qiang community.
    "During these years I carried an old-fashioned tape recorder with me wherever I went so that I would immediately record unexpected songs I came across. It was very rewarding as I kept finding unimaginable sounds," Wang explained.
    Wang once lived in a home full of Qiang musicians and quickly developed great rapport with the artists.
    "They always sing while drinking. I found that they sang to their heart's content when they drank some wine. So I always greet them with wine and even during the performance, I encourage them to have a little wine backstage," Wang said.
    The Soul of Qiang showcases 23 Qiang ethnic minority folk songs with a number of the tunes collected by Wang from 56 Qiang fortress villages that he visited. Qiang people have their own spoken language but do not have a written form. Their songs, dances and customs are passed down by word of mouth.
    The 80 performers in the show all come from Qiang communities. Most of them have never stepped out of their village, let alone received professional music training. Everything they know, they have learnt from their ancestors.
    Show director Xiong Yuanwei said that the production is an innovative representation of the culture through dance and drama. Not simply a folk music concert, The Soul of Qiang has a coherent plot and incorporates scenes from daily Qiang community life.
    Xiong added that the show is also a living museum of Qiang culture as the audience is presented with the six Qiang cultural treasures that are listed as national intangible cultural heritage items in China. They are the minority's unique architecture Diaolou (stone watchtower), the Qiang flute, goat skin drum, multiple-voice singing, Qiang embroidery and traditional women's festivals.
    The production begins with the ancient Qiang custom of a man and a woman holding goat horns. Local people believe that if the horns match, the people holding them are destined to become a couple.
    Xiong said that he believes through presenting the diversity and vitality of Qiang culture, the show will help boost the cultural confidence of Qiang people.
    He explained that some of the performers had lost their houses in the earthquake and their family members were busy building new residences in their hometown. Despite the disaster, performers were eager to join the show to exhibit their lifestyle and customs.
    "We have a strong feeling that Qiang people are not only reconstructing their living place but also paying equal attention to their spiritual homeland," Xiong explained.
    Renowned Chinese music critic Liu Xuefeng described the performance as "powerful and touching." He said that although the show did not feature any famous stars, the Qiang performers revealed a distinctive charm that professional performers from the cities cannot convey.
    American folklore expert Thomas David DuBois said that although the songs were delivered in Qiang language, which few audience members could understand, the performance provided a window into the Qiang culture, allowing a great appreciation of the minority's ways.
    The Soul of Qiang plays until Monday at Beijing's Poly Theater before touring through 18 Chinese cities. The show is also scheduled to take center stage at the Shanghai World Expo in 2010.
    (Source: Globaltimes)
Source:
news.xinhuanet.com