Interns join Expo cause
2009. 11 August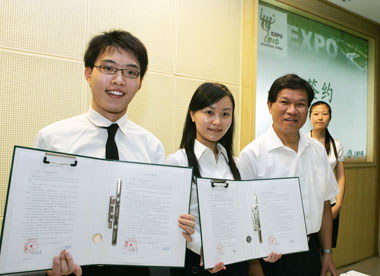 by Yang Jian
(shanghaidaily.com) The 2010 World Expo organizer yesterday recruited 130 interns from the city's university graduates to assist in operations for the event.

They will begin to work in the Bureau of Shanghai World Expo Coordination from September to the end of the Expo in October next year.
A three-week training program from the Expo organizer will include Expo general knowledge, Chinese and English writing, etiquette, group working, fire fighting and emergency aid.

The students were employed in 23 departments of the bureau in areas including secretarial work, archive management, marketing, construction, legal services and public relations.

The organizer will recruit about 1,000 more interns at the end of the year to work in the Expo bureau, national pavilions or government institutions at the Expo site

The Expo organizer aims to showcase the image of Shanghai youth to world visitors at the Expo and provide job opportunities to local graduates under the current financial crisis, said Xu Weiguo, deputy Party chief of the bureau.

Local unemployed graduates aged between 20 and 25, are eligible.

English speaking and writing abilities are needed for most of the positions. Wages are about 576 yuan (US$84.27) per month with the bureau paying other expenses.

Shen Yue, 23, who graduated from Tongji University, said she rejected an offer from a company that promised to pay her 2,500 yuan per month to apply for the Expo position.

She was recruited as a bureau administration assistant.

Interns can leave work if they find new jobs, but need to give a month's notice, said Zhuang Meichun, deputy director of Shanghai Foreign Service Co.

The company, a human resources service provider, will hold the first round of interviews. The Expo bureau will conduct final interviews at the end of next month.

Potential candidates can apply online at http://jianxi.efesco.com/jianxi/index.jsp.

Xu said the organizer would grant certificates and write recommendations for the Expo interns for future careers.


Source:
www.shanghaidaily.com