Closer HK-Shanghai ties urged
2009. 14 August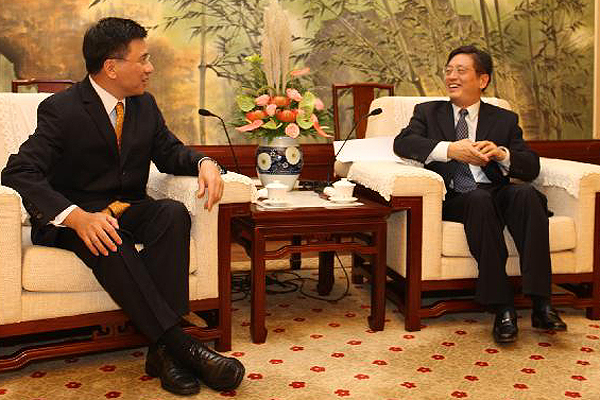 (news.gov.hk) Hong Kong should strengthen co-operation with Shanghai and capitalise on its status as an international financial centre in the Asia time zone, Secretary for Financial Services & the Treasury Prof KC Chan says.
Meeting Shanghai Vice-Mayor Tu Guangshao in Shanghai today, Prof Chan said the two cities enjoy a mutually beneficial relationship, adding Hong Kong should adopt an international outlook and boost the national advantages together with Shanghai.
"As a highly international, liberal and institutionalised international financial centre, Hong Kong has relatively more experience and advantages in facilitating Mainland financial institutions to go international step by step, attracting foreign capital and introducing financial innovation.
"Hong Kong and Shanghai can bring their own strengths into play and capitalise on different co-operation platforms to promote the development of the financial industry in the two places."
Mutual benefits
Prof Chan said both places should be mutually supportive and complementary in a joint effort to contribute to the country's financial reform.
He hoped to explore with Shanghai ways in which the two places can jointly facilitate financial development, reform and innovation while meeting the country's overall development needs in line with the mutually beneficial win-win principle.
Business meetings
The financial services delegation Prof Chan is leading also met other Shanghai leaders and officials on the first day of its visit. Prof Chan and delegation members exchanged views with Shanghai officials on concrete measures to boost financial co-operation, such as the potential to introduce an exchange-trade fund of Hong Kong stocks into the Mainland.
The delegation will visit the Shanghai World Expo Exhibition Hall tomorrow to learn about the progress of the preparation of the World Expo 2010 Shanghai.
The delegation will also meet senior executives of the Shanghai Industrial Investment (Holding) Co Ltd. Prof Chan and the delegation will return to Hong Kong in the afternoon.
Source:
news.gov.hk