Spirit of celebration unveiled
2009. 25 August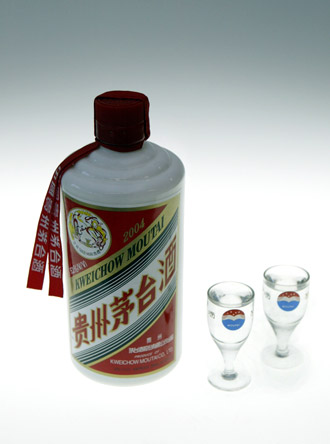 by Yang Jian
(shanghaidaily.com) Southwest China's Guizhou Province, home of the Moutai liquor, will invite visitors to try free samples of the fiery spirit at its 2010 World Expo pavilion.

The Guizhou Expo team made the announcement at a press conference yesterday to launch a week-long Expo exhibition in the city.
Ethnic Miao girls from the province will give every 100th visitor to the pavilion a cup of liquor served in an ox horn while singing songs encouraging them to drink.

It was a tradition for receiving guests, said Yang Haodong, deputy director of the department of commerce of the province and director of the pavilion.

The province will present a free bottle of Moutai to every 1,000th visitor.

Guizhou organizers plan to give away five bottles daily during the 184-day event.

The province would make Moutai the centerpiece of its pavilion, Yang said.

And that is hardly surprising, considering its long history. The liquor won the gold prize at the Panama World Expo in 1915.

A highlight of the pavilion will be a giant upturned bottle of Moutai that pours water on a model of the Earth. The water then starts a brook.

The organizer will add a little liquor to the water so the smell spreads across the pavilion.

Under the theme "Charm of the Summer Resort," the 600-square-meter pavilion in China's provincial hall that surrounds the China Pavilion, has been called a "well-dressed Miao girl."

It will incorporate elements such as a wind-rain bridge, minority masks and the province's silver accessories.

The ethnic Dong wind-rain bridge will be set among an 8-meter-high model mountain with a mini Huangguoshu Waterfall.

Dances by the Miao, Dong and Puyi - the province's three main ethnic minorities - will be performed during pavilion opening hours.

Organizers expect 5,000 people to visit the pavilion every day. It has an overall budget of about 13 million yuan (US$1.90 million).

An exhibition on the province's Expo showcase will run free through Sunday at the Shanghai Expo Exhibition Center at 300 Huaihai Road M.

Construction on the pavilion is due to begin in October and trial operations are scheduled for next March.


Source:
www.shanghaidaily.com