China Daily to serve as 'window to foreign friends' for expo
2009. 18 September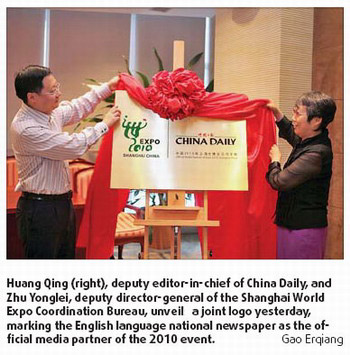 by Wang Zhenghua

(chinadaily.com.cn) China Daily and Shanghai Expo organizers unveiled a joint logo Thursday, inking a deal to make the country's longest-running English language national newspaper the official media partner of the 2010 event.
In addition to ongoing news coverage of the expo, China Daily publishes a special biweekly expo supplement, Planet Parade. Since April, it has been detailing a number of hot topics and issues pertaining to the one-year run-up to China's most-talked about affair since the 2008 Beijing Olympics. Meanwhile the website Chinadaily.com.cn provides further related coverage on its homepage under a devoted section titled World Expo 2010.
Following last year's Summer Games in the Chinese capital, the Shanghai World Expo is expected to show the world the country's rising global clout. The expo will see the participation of 241 countries and international organizations, and is predicted to draw 70 million visitors, with 4 million hailing from abroad.
"The world's attention on the Shanghai Expo has been escalating," said Huang Qing, deputy editor-in-chief of China Daily. "The newspaper has been using all of its resources under its flag to support the promotion and publicity of the expo."
China Daily's publication 21st Century, which targets students, also publishes expo-related stories to give young readers a chance to learn about the expo, she added.
With a circulation of 300,000 in 150 countries and regions, the newspaper also has an established presence at international events. It published two separate publications for the 2008 Olympic Games and Paralympic Games: The Olympian and The Village Voice, respectively. It also prints official reports for major world forums, most recently including the APEC summit and Summer Davos summit in Dalian, Liaoning province.
Zhu Yonglei, deputy director- general of the Shanghai World Expo Coordination Bureau, described China Daily as the window for foreign friends to learn about the rising Asian power.
"With a wide circulation, China Daily is a newspaper that covers different people from a kaleidoscope of countries and regions," he said. "We are glad to have the influential newspaper as our media partner."
Source:
www.chinadaily.com.cn