Bullion and coins minted just for Expo
2009. 23 September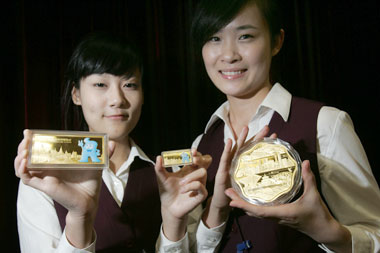 Models show gold bullion pieces and coins. (by Gao Jianping)

by Wang Xiang
(shanghaidaily.com) Four limited editions of gold bullion pieces and coins were issued yesterday to commemorate the 2010 World Expo by the Bureau of Shanghai World Expo Coordination and the China Gold Coin Inc.

The commemorative pieces of gold bullion weigh 500 grams, 100 grams, 50 grams and 20 grams each.
The largest piece of bullion will have an edition of only 100 pieces.

Three sets of gold and silver coins range from a gold coin weighing 1 kilogram to a silver coin weighing 15 grams. The most expensive gold coin will cost 298,000 yuan (US$43,627) and only 30 will be available.

The coins share a common obverse design featuring Haibao, the Expo mascot. The designs for the reverse feature Beijing's Tian'anmen building, and Shanghai's Oriental Pearl Tower and the China Pavilion.

The coins and bullion will be available at Expo-licensed stores.


Source:
www.shanghaidaily.com