Foreigners get taste of 'home'
2009. 30 September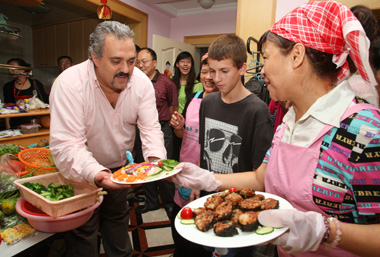 Miguel Rivas, a foreign expert from Spain working at Donghua University, and his son try a Chinese-style dinner made by Dong Shizhen (right) and Zhang Lanyou (center) yesterday in Linfen Neighborhood Community. (by Wang Rongjiang)

by Lu Feiran

(shanghaidaily.com) Eleven foreigners yesterday for the first time tried some city home-style comforts in the lead-up to the 2010 Shanghai World Expo.

They will stay one night with families in Zhabei District where residents treated them with Chinese-style vegetarian cuisine and community activities.
The guests, from Spain, Japan, Sudan and Cote d'Ivoire, will give suggestions on their home stays and any improvements they believe are needed, the Shanghai Tourism Administration yesterday.

The foreigners, some tourists and others Shanghai expats, stayed in 555 Wenxi Road, which belongs to Linfen Neighborhood Community. Most of the residents hosting them are senior citizens.

"I've come to Shanghai several times, but have never stayed at people's homes," said Shingo Nakamura, a tourist from Japan.

Last night's dinner was a vegetarian feast at the home of Zhang Lanyou, 62.

The dishes are Zhang's specialities and yesterday, with five of her sisters, she prepared 15 courses and two snacks.

They wore aprons and masks, working like chefs at home.

They started preparing three days ago. "My family and I have studied vegetarian cuisine for several years," she said. "We want to introduce it to foreign guests."

Breakfast today will be sent door to door by Xinya Dabao, a chain restaurant providing Chinese snacks.

The guests also visited the Community Culture Center and Sunny Home, an institute for intellectually disabled people.

The foreign guests will leave the community this morning.

All the families set aside a bedroom with bathroom for the guests.

Wu Meixiang, 58, said she and her husband lived with her son and daughter-in-law, but recently the couple went to Egypt to work. Their bedroom will be used to receive tourists.

Students from the Shanghai Institute of Foreign Trade are helping the guests and residents to cross the language barrier.

However, most residents have learned simple English expressions during the past few weeks.

Tourism authorities expect to develop many "home hotels" for Expo visitors.

Linfen is the pilot of the project, which will soon be promoted all over the city.


Source:
www.shanghaidaily.com