Stars in mega concert for Expo countdown
2009. 10 October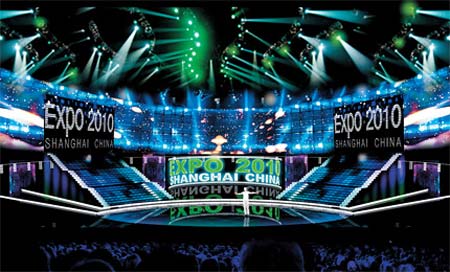 About 40 stars and celebrities will sing their hearts out next Tuesday to mark the 200-day countdown to the World Expo 2010 in Shanghai.(Photo Source: Shanghai Daily)

(news.xinhuanet.com) Around 40 stars and celebrities will sing their hearts out next Tuesday to fuel Expo fever and mark the 200-day countdown to the World Expo 2010 in Shanghai.

The concert at Shanghai Grand Theater will be live broadcast worldwide through Dragon TV starting 7:30pm.

Tickets are not on sale to the public, but some will be given away to those who answer an Expo quiz sponsored by China Mobile and Tencent Co.
    Stars and celebrities include Andy Lau, one of Cantopop's "Four Heavenly Kings" from Hong Kong; Coco Lee, the first Chinese to perform for the Academy Awards; Tsai Chin, an "evergreen" ballad singer from Taiwan; pop singers Sky Wu, Vivian Hsu and Peter Ho; celebrities Li Bingbing and Huang Xiaoming; Super Girls Zhang Liangying and Shang Wenjie; as well as New Age singer and songwriter Sa Dingding, BBC World Music Awards winner in 2008.
    They all will sing Expo songs -- and some of their hits -- to stoke enthusiasm for the six-month event that opens on May 1, 2010.
    "Better City, Better Life! Let's cheer for the Shanghai Expo. Best wishes for the countdown concert," says a message from NBA star Yao Ming, a Shanghai native who is one of the three ambassadors for World Expo 2010.
    The other two envoys are Hong Kong action star Jackie Chan and internationally known pianist Lang Lang.
    The Expo theme is "Better City, Better Life."
    Over the past three years, 34 top Expo songs have been chosen from among 4,000 entries from China and overseas. Half of them will be performed in the concert.
    Taiwanese singer Ho and Hsu will collaborate in "Say Hello With Smile," which features a fresh melody and rap style, to remind people to mind their manners.
    The song "The Wing of Dreams" with a peaceful melody tells of China's dream of putting on a successful Expo. It will be performed by Taiwan-based Singaporean singers JJ Lam and A-Do; By2, a Singapore-based twin girl band; and Chinese mainland singer Jin Sha.
    Folk singer Sa will combine world music and Chinese folk tunes in the song "Our Expo."
    Taiwanese singer Chris Yu and mainland singer Qi Wei, a winner of the "My Show" singing competition, will collaborate in "Shining City" written by a high school student.
    "Smile Shanghai," written especially for the 200-day countdown, will make its debut in the concert, performed by eight heavyweight pop singers -- Lau, Lee, Lam, the duo Yu Quan, Super Girl Zhang, Jam Hsiao and Cheer Chen.
    Other songs to be performed include "Charming Shanghai" (sung by Guan Zhe), "Painted Heart" (by Zhang Liangying), "Better City, Better Life" (by Sky Wu), "Colorful World" (by the band Blue Garden) and "2010 Waiting for You" (by Gigi Leung).     
    By today, China Mobile's Fetion users can download the client software, log onto the Fetion client server, add Dr Haibao (Fetion number 992010) to your list, and answer the questions Dr Haibao raises.
Source:
news.xinhuanet.com