200-day countdown
2009. 12 October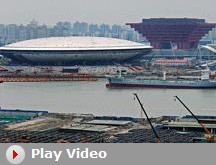 (cctv.com) Sunday marked the start of the 200-day countdown to the 2010 Shanghai Expo. A series of cerebration activities were held in many districts around the host city.
With just 200 days left until the World Expo opens, 20 dancing teams performed at a square in Jing'an district in downtown Shanghai.
Young and old, Chinese and international, their passions toward the Expo are the same.
Local Resident, Shanghai, said, "Activities like this have built a bridge with foreigners. That's very good."
This particular district in Shanghai has already held 57 such activities. The events are live advertisements for the Expo and, at the same time, helpful in spreading the concept of fitness-for-all.
Local Resident, Shanghai, said, "I'm feeling younger through these activities. They have really enriched our lives."
In another Shanghai district, dozens of girls dressed up like the Expo's mascot, Haibao.
They are just a few of the roughly 13,000 people who participated in the "Haibao Dance."
Shao Kun, Member Haibao Dance Team, said, "We are dancing for the Shanghai Expo. We want to contribute our passion to the big event."
The Shanghai Expo opens on May 1st, 2010, and will last for five months. Chinese people are determined to present the world with a successful and unforgettable exposition.
Source:
www.cctv.com