Ball looks forward to Shanghai
2009. 19 October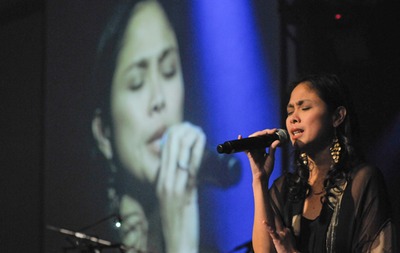 Crowd pleaser. Ma-Anne Dionisio, who appeared in Miss Saigon and Les Misérables, entertains the crowd at the 11th Annual Phoenix Ball. Photo by Claudio Cugliari

by Alex Sahounov
(mississauga.com) East met West last night at the 11th annual Phoenix Ball, held at the International Centre in Malton.

More than 700 people attended the gala event that was presented by the Mississauga Board of Chinese Professionals & Businesses (CPB).
The theme of the affair was "From Mississauga To Shanghai Expo 2010." It celebrated the growing business and cultural connections between Mississauga and Shanghai as well as the world's fair to be held next May in the Chinese city.
The gala also served as a fundraiser for local charities, including the Yee Hong Centre for Geriatric Care, the Credit Valley Hospital and Trillium Health Centre.
Founded in 1998, the CPB connects Chinese and Canadian businesses and promotes cultural diversity, said Gala Chairperson Audrey Chiang.
"We don't just raise funds, we make a difference in the community," Chiang said.
Through the Pheonix Ball, more than $1 million has been raised for local charities over the last decade.
Last night's festivities included live and silent auctions, raffle draws and entertainment.
Rogers Television station manager Jake Dheer and OMNI Television news anchor Mandy Siu were co-emcees.
Mark Rowswell, Canada's Commissioner General for Expo 2010, talked to the gathering about our nation's involvement in an event that will attract an estimated 70 million visitors. More than 200 nations will participate.
Canada's involvement will include a multi-million dollar pavilion that will showcase the country's history, art and culture, said Rowswell.
The pavilion also will be an important tool for promoting a modern vision of Canada, he said.
"This expo is the best opportunity we've had in a long time to promote ourselves to a much wider audience," said Rowswell.
People's Republic of China Consul General Zhu Taoying said the world's fair is a very important event for the host country.
"Next year will be a showcase of China's development," said Taoying. "We want everyone to come and see what Shanghai has to offer."
The night finished with performances by Chinese Arts Festival youth singing contest winner Bobby Duong, tenor Michael Ciufo and performing artist Ma-Anne Dionisio.
For more information, visit www.cpbmississauga.com.
asahounov@mississauga.net
Source:
www.mississauga.com