Buddha relics to debut at Expo
2009. 20 October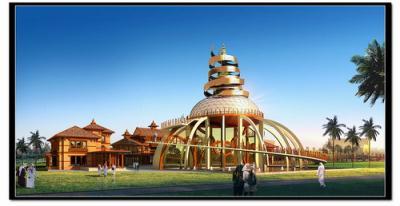 by Yang Jian
(shanghaidaily.com) Nepal plans to exhibit a hair and tooth relic of the Gautama Buddha, founder of Buddhism, at its pavilion for the 2010 Shanghai World Expo.

A senior official of the Nepalese Expo group made the announcement yesterday as construction finished on pavilion foundation work.
The relics were Nepalese national treasures that had never been out of the country and were worshipped by numerous Nepalese Buddhists every day, said Binayak Shah, director of the pavilion.

Buddhists in Nepal supported the plan but the Expo group was still waiting for final approval of the Nepalese government, he said.

The relics will be displayed for a month at the center on the ground floor of the pavilion, which replicates an ancient Nepalese temple.

They will be placed in a golden or wooden box and visitors can see them from higher floors inside the pavilion, according to Shah.

He said they would be sent to Shanghai next June or July by a special flight.

The pavilion would show Buddhism at the Expo as a culture, rather than a religion, said Rajendra Mahato, the Nepalese Minister of Commerce and Supplies.

The foundation of the pavilion was completed yesterday as Mahato and Huang Jianzhi, deputy director of the Bureau of Shanghai World Expo Coordination, buried some soil and water brought from Lumbini, the birthplace of Buddha.

With the theme "Tales of Kathmandu City," the pavilion will capture important historic moments of the city.

The pavilion is in the form of an ancient Buddhist temple in Kathmandu, surrounded by traditional Nepalese houses.

A car or motorcycle rally will run from Lumbini to the Expo site.

The rally will bring the "eternal flame of peace" to Shanghai from Nepal.


Source:
www.shanghaidaily.com