Federer to be Expo ace card
2009. 24 October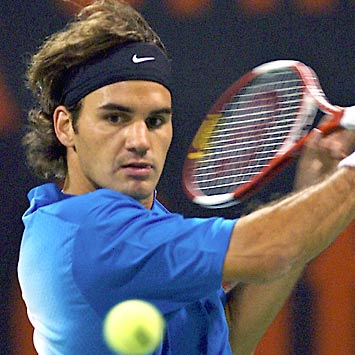 by Yang Jian
(shanghaidaily.com) World No. 1 tennis player Roger Federer may appear at the Swiss Pavilion at the 2010 Shanghai World Expo next year "to shake hands with his fans," the top official of the country's Expo showcase said yesterday.

However, Federer may only stay in the pavilion for a short while to avoid a crush of fans blocking access, said Uli Sigg, commissioner general for the Swiss Pavilion, as steel structure was finished on the pavilion.
The Swiss Expo group was still discussing detailed plans with Federer about his Expo appearance because of his busy schedule, Sigg said.

Federer reclaimed his world No. 1 ranking from Rafael Nadal this year by winning the French Open for the first time and Wimbledon, but withdrew from the Japan Open and Shanghai ATP 1000 Masters this month to get some rest.

The Swiss Pavilion will be a 4,000-square-meter open structure.

Twenty chair lifts the same as those on Titlis Mountain, one of the nation's most popular skiing spots, will be built inside the pavilion.

The pavilion's outside walls will be clad in biodegradable soybeans and solar cells capable of generating electricity.

The facade will be composed of 20,000 intelligent solar plates with LED lamps on each. They will spark one after another in time with photoflashes from visitors, according to pavilion architect Andreas Brundler.

The Swiss team would dismantle the facade after the Expo and present or sell the 20,000 plate to visitors, Brundler said.

The chairs will transport visitors on a spiral track from the ground floor to the roof of the pavilion, where a large meadow with various flowers will be created.

Visitors can expect to experience the busy urban life of Switzerland's cities on the first floor and enjoy the tranquil space of the nation's mountains on the roof, according to Sigg.

The pavilion will cost US$21 million. The Swiss government has allocated US$15 million and the rest of the cash is coming from Swiss corporations, including Nestle, Swatch and Holcim.

Meanwhile, Pakistan will highlight its close relationship with China in its Expo pavilion, a senior official of the pavilion said yesterday as he unveiled exhibition plans for the pavilion.

It will also show how Pakistani rescue teams helped victims in the killer earthquake in southwest China's Sichuan Province in 2008

The national flags of China and Pakistan would be painted on the roof of the pavilion, said Abdul Wahid, deputy commissioner general of Pakistan.

The pavilion's theme is "Harmony in Diversity" and it will be adjacent to the China Pavilion, representing the continuing close relationship.

Wahid said multimedia would be widely used to show elements of people's daily lives, its capital of Islamabad, Buddhism, the country's founder Mohammad Ali Jinnah and its cultural relics.


Source:
www.shanghaidaily.com