Canada, world get ready for Shanghai's Expo 2010
2009. 26 October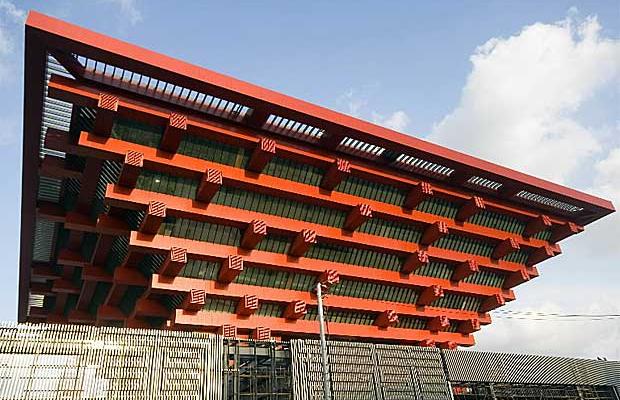 China's national pavillion is being built to wow at the Shanghai Expo. At 63 meters, the so-called "Oriental Crown" is more than three times higher than any other country was allowed to build. The structure is painted "Forbidden City Red," which is actually seven different shades painted on different levels so that the colour looks the same when the sun is shining. Photo by: Steven Curtin

by Aileen McCabe
(montrealgazette.com) The largest "nation branding" competition in the world is slated to take place in China's financial hub beginning next May.
Competition is stiff, with host China an early favourite and the U.S., surprisingly, not. Countries such as Spain, the Netherlands, Denmark and even Canada are expected to be very much in contention.
The competition is known as Expo 2010, but don't let the name fool you.
World Expositions have changed a lot since that magical summer in Montreal 42 years ago.
They have morphed away from the grand themes and beyond the architectural competition between Buckminster Fuller's Geodesic Dome and Moshe Safdie's Habitat '67.
Which country serves the best food and puts on the best show is still of concern, but mostly because it creates a buzz and that, in turn, might spark an interest among visitors that eventually may translate into business deals, investment and tourist dollars.
It is not for nothing that almost every national pavilion at the Shanghai Expo will have a substantial VIP area -- complete with a five-star kitchen in Canada's case -- ready to entertain Chinese business leaders at the drop of a hat.
When a reporter asked Christer Stenmark, chief architect of the Swedish pavilion, how he would judge Sweden's success in Shanghai, he said bluntly: "Our goal is not to have the most visitors, but to have the right visitors."
The $45-million Canada pavilion was designed by Montreal's Cirque du soleil.
From above, it looks like a stylized C surrounding an open-air performance space. The environmentally friendly white roof reflects heat away, which will be a blessing in Shanghai's sultry summer.
Carl Grimard, overseeing construction of the pavilion, patriotically insists that from the Lupu Bridge, the white membrane looks like snow. The pavilion's outside walls will be covered in British Columbia red cedar.
Canada's 6,000 square-meter space is one of the largest among the 43 nations and organizations that are building stand-alone pavilions, but none can hope to compare to what their host has created.
The China pavilion is 64 metres tall -- equivalent to a 20 to 25-storey building, according to Grimard -- and is painted seven shades of Gugong (Forbidden City) red.
Building a cool pavilion is the first step for a country hoping to successfully "brand" itself at the Shanghai Expo, but it is certainly not the only one.
Who and what's inside the building is important, too.
Source:
www.montrealgazette.com